12 October 2021
We have been counting butterflies on the Lingfield Nature Reserves since 2002 and this has been our best year ever in terms of total numbers of butterflies recorded. This is in stark contrast to the Big Butterfly Count 2021 by Butterfly Conservation, which sadly saw the lowest number of butterflies and moths ever recorded (see the lnnk below)
So what is behind our very different experience to the Big Butterfly Count? Small/essex skipper, dingy skipper, orange tip, brown argus, red admiral, gate keeper and meadow brown all had their best ever years. Brimstone, small copper, peacock and small heath had their second best ever year. That is quite a range of species with different flight periods, life cycles, preferred habitats and food plants. Some of it maybe down to over enthusiastic recording due to the Butterfly Garden now being so good as a nectar source as is the area around the Coldharbour pond but it is hard not to conclude that improving habitat is the reason. The replanting of the Butterfly Garden now full of buddleia and other excellent nectar sources must be contributing to the numbers for species like red admiral and peacock. The planting of alder buckthorn all over the reserves must be helping brimstone. Meanwhile our best ever year for common spotted orchids and evidence of betony spreading out from the ditches into the wider meadows suggests the grasslands are getting more flower rich. This must be helping our butterflies buck the national trend. It just shows that we can do something about insect declines and everyone should try to create good habit with more wildflowers.
https://butterfly-conservation.org/news-and-blog/big-butterfly-count-2021-sees-lowest-ever-number-of-butterflies-recorded?fbclid=IwAR2N3DfF-bvgdVyuZc9jzIg_lM9HK8xSkahZcSFxo1m_TO5Kp_A-zvfktrI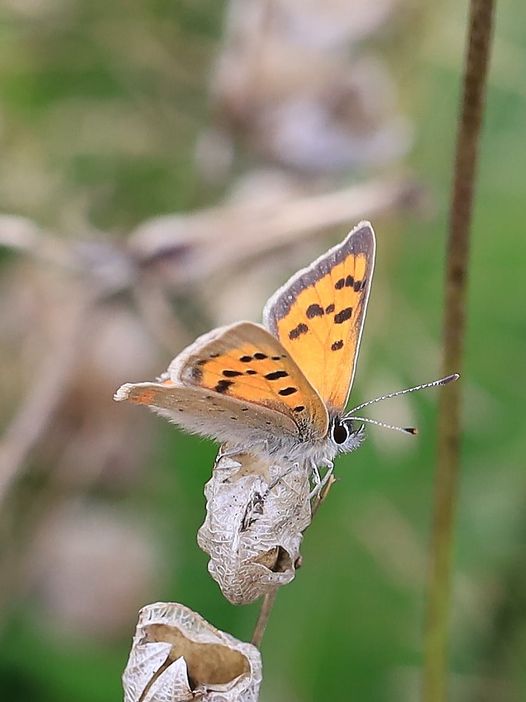 Small Copper in Bloomers Field (30/9/21) (Image courtesy of Richard Stephens)
15 April 2019
At least four species of butterfly were spotted on the reserves including comma, brimstone, speckled wood with orange tip off.
At the February work party, wildflower plugs of primroses and dog violets were planted in Cold Harbour copse and Derek Slade Spinney. The primroses are establishing well and some large plants that were planted a couple of years ago are in full flower. The dog violet plugs are hard to find as they are so small but they are still alive and seem fine. This is all contributing to our aim of creating a rich herb layer in these planted woodlands. On this point the previously planted patch of wood anemones flowered well this year and appears to be establishing.
A common lizard was seen basking on an old log by the newly laid hedge in Beacon Field. This is the second sighting of a lizard in this area so it is very pleasing to see evidence of a colony in this location.
Common spotted orchids are now emerging and can be seen in good numbers along the various ditches where the seed was broadcast. The first leaves of betony plants can be seen in the new meadow which grew on the spoil from our most recent pond. This area was seeded over three years ago, so this shows that meadow creation is a long term project and takes patience before good sized plants begin to be seen. That is also true of cowslips. We probably have more cowslip flowers than ever before but it has taken at least 10 years for the plants to grow to flowering size.
Some of the crab apple trees which we planted around the edges of coldharbour copse, mainly for aesthetic reasons, appear to be producing flower buds so we can look forward to their attractive blooms later this month. The common pears planted for the same purpose are also growing away well. Interestingly, these trees were planted without the benefit of tree mats just mulches of hay following the cut but are growing well. The English elm which seemed to be dying back in that hot spell last year is putting out leaf buds.
If you want to see the effect of yellow rattle, a star wildflower, keep your eyes open in the orchard. The grass here usually grows very strongly suggesting fertile ground. However, if you look closely you will see one or two patches where the grass does not do so well. These are the areas where yellow rattle has established. Being parasitic, this plant checks the vigour of the grasses making them less dominant and giving wildflowers a chance to thrive to the benefit of other wildlife. There are also lots of molehills in these areas. Whether this is because the grass is thinner making the molehills more visible or there is some other relationship like more earthworms in these areas is a question to be answered.
Just over a week ago two red kites were seen over the reserve one of which was skirmishing with a buzzard. Could this be a local pair? There are rumours that these wonderful birds are now breeding in the area.
Finally, it was a delight to see newly arrived swallows swooping around the buildings of Paris Farm.
1st and 2nd June 2018
86 common spotted orchid flower spikes counted. What is interesting is many were in new areas where they have not been seen before. A new hotspot is the wildflower meadow where there were 14. They are clearly spreading and some had very large flowers. Interesting butterfly sightings included courting brimstones, the years first large skipper and meadow brown and a dingy skipper away from its usual spots nectaring on red clover East of the new pond. This would suggest these little Spring butterflies are quite widespread in Bloomers Field. Other butterflies seen included common blue and comma. Lots of dragonflies were on the wing with mating broad bodied chasers on the new pond, beautiful and banded demoiselles seen almost anywhere on the reserves and large red and azure damselflies egg laying in the smaller ponds. Day flying moths seen were mother skipton, silver y and burnet companion. Ragged robin was flowering by the ponds and in the wild flower meadow.
27th May 2018
Walking our butterfly transect around the reserves today did not reveal many butterflies but some good ones were seen. A red admiral was flying around the scout hut carpark. A lovely common blue was perched on grasses in one of the ditches next to the new pond. Two fresh looking dingy skippers were having an aerial battle over the ditch closest to Coldharbour. This is the best place to see them during their short flight season in late May/early June although they can be glimpsed flying across the meadow. Some day flying moths were also spotted and were probably burnett companions. A speckled wood was on the wing in Beacon Field where they are invariably seen at the corners of the fields where there is scrub creating the areas of shade and sun on the branches and vegetation that they like so much. Our growing population of common spotted orchids is coming into flower and several pink spikes can be seen in the ditches on the West side of Bloomers Field. Indications are there will be at least 100 flower spikes this year. Double that seen last year. The other pleasing observation was a number of powder blue broad bodied chasers patrolling the new ponds and ditches. Up to four were scouring the banks of the new pond and quartering the nearby ditches. Azure damselflies could be seen egg laying in the smaller ponds in the ditches. These ponds and ditches are always very cloudy due to very heavy dog traffic. Although they look unsightly as a result and suffer excessive trampling and bank erosion preventing bank side vegetation from developing, the dragonflies and damselflies obviously do not care. During the Butterfly Garden work party in the morning, we were reprofiling the chalk banks and a large toad was disturbed and safely moved to under one of the hedges. The rubble has been piled there for about a week. It is surprising that such a dry dusty spot would be chosen by the toad to shelter in.
14th April 2018
So nice to see some sun at long last. I managed to complete my first butterly transect walk and recorded four insects of four different species: small tortoiseshell, peacock, brimstone and comma. These are all species which winter as adults and are seen in early Spring. I was also delighted to see a slow worm disappear into the Paris Farm hedge and to find a small, tan coloured toad, probably only a year old, in one of the ditches in Bloomers Field. A buzzard and a kestrel put in appearances. These species are almost guaranteed to be present on the reserves.
17th March 2018
Frogs have now spawned in one of our ponds. The cold weather seems to have delayed them a couple of weeks compared to last year but there is now probably about 15 clumps. A recent visit after dark to see if great crested newts were evident in the new pond revealed a surprise. A gravid female toad in amplexus with two males was seen in the pond nearest the scout hut and nearly every other pond and scrape was found to have what were presumably smaller male toads in them. The new pond had at least four. They were quite noisy and active and suggest that toads breed in our ponds although toad spawn has not been found to date. One or two individual toads have been seen during our pond dipping sessions over the years but we had no idea there was a population of the size the twenty odd individuals seen on Friday suggest. No great crested newts were seen in the new pond but several were seen in the scout hut ponds.
Keep your eyes out for buzzards and kestrels when you visit the reserves. They are nearly always around but sometimes take a bit of spotting.
5th August 2017
Despite the unpromising weather I was fortunate enough to spot a brown hairstreak nectaring on hemp agrimony in the butterfly garden. We are lucky enough to see one or two on the reserves every year as well as finding their eggs. With luck they can sometimes be seen on the ash tree in the quiet garden. The pretty blue flowers of devils bit scabious can now be seen blooming all along our various ponds and ditches where we have successfully introduced them by sowing seed collected from Cowden Pound nature reserve in Kent.
2nd August 2017
Yesterday 24 common blue butterflies were recorded along our transect route. That is a record for a single day and shows this beautiful butterfly is thriving on our reserves. Today I was startled by a large frog jumping into one of the pools in the central ditch in bloomers field. Hopefully frogs will breed in these pools in the future. The betony along our ditches is past its best but some are still in flower. However, its role as star nectar plant for insects will soon be taken by devils bit scabious whose lovely blue flowers are just starting to show. Both these plants are establishing well around our new pond but it will probably be a few more years before the plants are big enough to put on a show.
10th June 2017
I walked our weekly butterfly transect today and counted 18 meadow brown butterflies along the route showing more and more are emerging. Large skipper, several common blues and speckled wood were also recorded. Swallows and swifts were hawking over the reserve. A buzzard and a kestrel were seemingly flying together over Paris Gate. A pair of linnets flew out of the hedge to the West of the orchard and black caps and chiffchaffs could be heard. Bullfinches were calling on Haylands Farm next door. Emperor dragonfly and beautiful demoiselle seen on the wing. Jays were very active in bloomers field where I suspect there is a nest. We seem to have three established groups of common spotted orchids: by the ponds, in the ditch near Coldharbour and a newly discovered one establishing in the wildflower meadow. However, I also spotted several single plants in new places including a large orchid in beacon field amongst the bramble scrub. Corky fruited water dropwort is now in flower in its usual place in beacon field but new plants are also flowering by the new pond in the establishing meadow sown with local seed on the spoil from the pond excavation.
4th June 2017
Meadow brown butterflies are now flying and can be seen throughout the grasslands. Common blues seem to be thriving in bloomers field. Several could be counted when the sun was out fluttering through the grasses. No doubt this is due to the abundance of their food plant: birds foot trefoil. Yesterday I also counted speckled wood, small copper, red admiral and brimstone butterflies. Day flying moths are evident. There are quite a few around the old ponds, probably brown china mark moths. I could only identify burnett companion in bloomers field but there were several other species. Maybe twenty swifts were flying over the reserves. The ones hawking across jenners field were coming down to less than a metre above the ground as they sped after insects. Swallows and house martins were also seen. A lesser whitethroat was heard from bloomers field. As always buzzards were soaring over the reserves. A kestrel was seen over bloomers field. Around fifty common spotted orchid are now in flower. This is a 70% increase on last year and includes several plants in the wildflower meadow where there was only one in flower last year. The ditch by coldharbour could justifiably be named orchid alley. The highlight of my visit was spotting a common lizard in the edge of the brambles in beacon field. These bramble beds are deliberately left untouched for wildlife and rabbits could be seen taking shelter as I approached while the flowers were alive with hundreds of bees.
14th May 2017
I walked the weekly butterfly transect and was delighted to record a dingy skipper in section 3 which is the ditch near Coldharbour in beacon field. Other butterflies seen around the reserve included a couple of holly blues in the butterfly garden, a very fresh looking small copper in the orchard plus peacock, speckled wood and probably large white (it could possbibly have been a female brimstone) elsewhere. I saw a sparrowhawk carrying prey just North of cobham hedge which would suggest a nest nearby. There was a buzzard over bloomers field. Chiffchaffs, blackcaps and bullfinches were all heard from the wildflower meadow. Swifts were screaming over bloomers field. Pignut is in full flower on the beacon field side of centenary hedge. The white stars of greater stitchwort are in full bloom in many parts of the reserve and were particularly noticeable on the jenners field side of centenary hedge.
10th May 2017
A beautiful sunny day and warm in the sunshine. Some wonderful wildlife seen. Red kite. Buzzard. Heron. Sparrowhawk. Common whitethroats in orchard hedge. Blackcaps in coldharbour copse perhaps responding to the thicker undergrowth due to coppicing in recent years. Grass snake on the edge of cold harbour copse. Brimstone, common blue, speckled wood, small white greenveined white and holly blue butterflies.
14th April 2017
Mistle thrush in horse paddocks. Goldcrest. Nuthatch. Wren. Chiffchaffs. Swallow over Paris Farm. Blackcaps. Thousands of dandelions in fields on Paris Farm looking wonderful. Small party of linnets with a cock bird singing nearby possibly attracted by the seeds. Jackdaws. Greenwoodpecker. Skylark over Beacon Field then flew over Paris Farm. Starlings. Bullfinch. Songthrushes singing. Chaffinch. Two buzzards high over Bloomers Field. Jays near probable nest. Mallard duck with two ducklings on the ponds. Host of house sparrows around scout hut.
12th April 2017
Song thrushes singing all round and heard a mistle thrush from the direction of Paris Farm. Blackcaps. Chiffchaffs. Buzzard and kestrel over. Nuthatch and greenfinch in Jenners. The jays that are probably nesting were very active in Bloomers Field and heard then saw four swallows over. Long tailed tits in Cold Harbour Copse. The common pears and crab apples we planted around the copse are doing really well although still to young to flower. Next year hopefully. Speckled wood butterfly. Counted 50 emerging common spotted orchids. That is before they have even flowered when many more become apparent. Out total last year was 30 so we can be pretty confident they are establishing and spreading and it looks like they are doubling their numbers.
9th April 2017
A glorious sunny day which was perfect for insects. Small white, brimstone, orange tip, speckled wood and holly blue butterflies were all seen on the reserves. The colony of various mining bees near the first pond dipping platform were very active and a possible identification is yellow legged mining bee. There are probably at least two other secies but e need an expert to help ID them. The bluebells which are now establishing in Cold Harbour Copse are in flower and becoming noticeable for the first time since we began spreading seed about five years ago. I saw a red kite over Crowhurst on the Sunday.
5th April 2017
It seems more migrants are arriving. A swallow was sat on telephone lines in Crowhurst Road. Chiffchaffs could be heard all over the reserve and blackcaps were singing in the butterfly garden. A jay was seen taking nesting material into scrub near paris gate. A buzzard was sitting on a fence in its usual field on paris farm when it was bombed by another buzzard which then flew on West.
1st April 2017
The bare sunny slopes of the old ponds are like tiny lunar landscapes due to the burrowings of hundreds of solitary bees and their spoil heaps. We planted water mint today along the edge of the new pond. This is a favoured egg laying plant for newts and the flowers are loved by butterflies in high Summer. One or two toadstools are visible in the ditches. 2 buzzards over. Female kestrel flew out of hedge on Beacon Field and was then seen hovering over Haylands Farm. Jays. Jackdaws. Chiffchaffs calling around the reserves. Speckled wood butterfly in nettle patch in middle of Cold Harbour Copse. Primroses planted in the Autumn are coming into flower around the reserves. Plum and damson trees in the orchard are white with blossom.
30th March 2017
A glorious, warm, sunny Spring day. 2 buzzards over reserve. Dandelions flowering everywhere in the meadows and attracting insects. The wood anemones we planted a year ago in Cold Harbour Copse have come up and one even flowered. The tadpoles in the bridge scrape seemed to have all disappeared bar a handful. Have the newts eaten them or are they just good at hiding? 18 emerging common spotted orchids seen in a short stretch of the new ditch. Brimstone, totoiseshell, holly blue,red admiral and peacock butterflies seen.
25th March 2017
The tadpoles in the bridge scrape are now just starting to spread around the pond but are still nestled in the sunniest part of the pond on a protective bed of old spawn. The bare soil of the pond banks is busy with solitary bees presumably prospecting for nest sites. Bullfinch in wildflower meadow. Nuthatches in the orchard. Butterflies on the wing in the sunshine. At least three peacocks and one brimstone. The first common spotted orchid plants are emerging and showing near the ponds and along the ditch towards Coldharbour. I counted at least five in a one metre stretch of bank.
18th March 2017
The frogspawn in one of our scrapes is hatching and what looks like a black oil slick has formed on top. It is thousands of tadpoles all wriggling. It is good to see they seem to be surviving the attentions of the newts. Lots of foraging jackdaws, crows and magpies on Paris Farm next door. The fact they are finding food is encouraging as it is presumably insect life. Similary, a buzzard was again sitting on a fence post in the middle of these fields and is obviously finding food too. Primroses are out around the reserve and honey bees could be seen foraging on them.
12th March 2017
Great view of a buzzard perched on a low bush in a field on Paris Farm. Its bright yellow talons were very noticeable. Stock dove calling from just North of the reserve.The frogspawn is hatching. The first pond dipping session of the year was well attended as usual. Over 43 smooth newts and 11 great crested newts were caught then returned to the water. At the same time last year we caught 30 smooth newts and only one GCN. There is a picture of one of the examining trays below. A couple of frogs and several sticklebacks were also caught along with beetle, dragonfly and damselfly larvae.
11th March 2017
Meadow pipits on Paris Farm next door. Newts seen in our new pond as well as whirligig beetles.

4th March 2017
A lot more frog spawn has appeared and now there must be twenty or so clumps in the small pond by the bridge in the enclosure with the ponds. Buzzards are very active locally.
26th February 2017
Two clumps of frog spawn have appeared in one of the small ponds created specifically for frogs to breed in the channel between the larger ponds. Water starwort has been introduced into these ponds as it is a favoured water plant for frogs and newts.

11th February 2017
There have been lots of redwings on the reserves over the last week or so. Today was no exception with small flocks in Beacon Field alongside the hedges. It was nice to see song thrushes amongst them. Bullfinches are almost always present on the reserves and they were calling again today. Nuthatches could be heard too.

8th January 2017
Two pied wagtails dodging the dogs in Jenners Fields. Hopefully they will stay and breed somewhere nearby. Two song thrushes on Jenners Field too. A party of at least six bullfinches in the butterfly garden. We have now discovered mistletoe "seedlings" sprouting in at least four locations on apple trees in the orchard following the spreading of the sticky seeds on suitable branches over the previous two Winters.

10th December 2016
Nuthatch. Bullfinches. Goldfinches (a vocal flock in Derek Slade Spinney). Starlings. Song thrush. Mistle thrush (once again it was noisily seeing off all comers as it defended the berries on the large holly tree in Coldharbour). Redwing. Fieldfare. Jay. Pied wagtail (a party of three were trying to avoid the dog walkers in Jenners Field but continued to feed in the middle of the field. It is a good place to look out for wagtails).

4th December 2016
Bullfinch in Butterfly Garden. Mistle thrush in a big berry covered holly in the garden of Cold Harbour chasing all the other thrushes away and making their loud scolding call. Redwing in trees bordering Wildlflower Meadow. Heard some scraps of song thrush song coming from trees to the North of the reserve. I find it heartening that they are thinking of Spring already. I could hear a charm of goldfinches in Derek Slade Spinney.
26th November 2016
A female kestrel over Jenners Field. It perched on a large oak on the North side before flying over to a fir tree by the allotment in Beacon Field. Ring necked parakeets in Coldharbour copse. Mistle thrush over the orchard. Bullfinches calling.

12th November 2016
Founds a brown hairstreak egg on blackthorn in the Orchard very near where I found one last year. It is good to confirm this rare butterfly is breeding on the reserve.

5th November 2016
Found a fly agaric in the Orchard. These are beautiful toadstools with a red cap and white spots. They usually associate with birches but this one was nowhere near any.

23rd October 2016
Buzzard. Mistle thrush flew over.

22nd October 2016
Our reserves are good for bats particularly around the ponds as apparently is gun pond in the village not far away. To encourage them we have recently installed a substantial hibernaculum paid for by Gatwick Airport Community Trust in a large oak tree in Jenners Field. Workmen from Tandridge parks department kindly installed this rather heavy specially designed bat box high in the tree. The box has an open prospect across the field and gives the bats the clear flight lines they prefer. It is a lottery whether the bats will choose to winter in the box as hoped but The Surrey Bat Group have encouraged us to try. To check it out I visited as it got dark tonight and was encouraged to see a minimum of two bats foraging within ten metres of the box. Let's hope it meets their exacting requirements for a winter roost and a colony develops there. It would be wonderful to be able to watch bats swarming in front of the box as they gather to roost at dawn.

16th October 2016
Female sparrowhawk flashed across fields to the North West of the reserve. Hawker dragonflies, probably Southern and Migrant, hunting over the ponds. Another person described seeing a kingfisher visiting the ponds and having seen slow worms at the bottom of the hedge surrounding the pond enclosure.

11th October 2016
A local lady has reported seeing a kingfisher "darting" into the ponds then diving and grabbing a fish. She was obvously delighted at witnessing this and we are very grateful for the record which is our first sighting of a kingfisher on the reserves. Kingfishers are present on the Eden and are ocassionally seen in the local area but to have one visit a part of the reserves that has so many people passing by is a surprise. The ponds are full of fish so hopefully it will return regularly now it has discovered this food source.

2nd October 2016
It seems that the Autumn bird migration is late this year but today I saw a charming flock of around 100 meadow pipits in a field of rough grass adjoining the reserves. There were a few small flocks of swallows passing over too.

25th September 2016
Today we held a workparty and we were working around the ponds. I lifted a piece of roof sheet which we deliberately placed near the ponds in order to monitor wildlife. Underneath was a family of field mice, probably wood mice, as they are the commonest British species and also at least three tiny grass snakes. These would have hatched very recently and once again confirm we have a breeding population on the reserves. A groundhopper (like a very small grasshopper) was spotted in one of the small ponds. A bullfinch was calling from around the scout hut. Later a kestrel was hovering over Paris Farm until it pounced then flew off. A red admiral and painted lady were nectaring in a flower filled garden by Coldharbour.

3rd September 2016
A second sighting of a small heath butterfly. Several common blue butterflies were enjoying the late nectar offered by the stand of devils bit scabious in the new ditch by Coldharbour. We introduced them to the reserves by sowing seed collected from Cowden Pound nature reserve in Kent. They are now well established and their show of blue button like flowers gets better each year. They are covered in bees and the birds like the seeds.

27th August 2016
Buzzard. A small flock of linnets were present on the North side of Bloomers Field.

24th August 2016
Small heath, brown argus and purple hairstreak butterflies were recorded on our transect today. All of these species are rarely seen on the reserves although the hairstreaks are probably always present. They are usually high in the tops of oak trees and therefore hard to spot. This one was on the grass in Jenners Field for some reason. The others were nectaring of the wildflowers in the new ditch towards Coldharbour. A buzzard flew over and a flock of starlings was present.

24th July 2016
A red kite flew over over Paris Farm to the West of Beacon Field. A stock dove was calling in the Orchard yesterday. The stands of betony along the new ditch near Coldharbour are looking splendid at the moment. You can also find agrimony and meadowsweet in flower along this ditch and soon devils bit scabious should be out. Holly blues are flying in the Quiet Garden. Grasshoppers can now be heard and seen all over the reserves. We have recorded three types: meadow, field and common green.

17th July 2016
This year's smooth and even great crested newt larvae can now be seen in our new scrapes and ponds when they are clear. They are really hard to spot but if you put your finger near them they wriggle away. We are delighted to find this evidence of breeding less than a year after these new habitats were created. Lots of butterflies are now on the wing and meadow browns are abundant across the reserve grasslands. Gatekeepers have recently emerged and numbers should now build.The ditch near Coldharbour is a favoured spot for both essex and small skipper, They can be found nectaring on the developing stands of betony. Knapweed is coming into flower now and this is a favourite butterfly nectar plant. Thankfully it has done well on the reserves and become more widespread each year.

19th June 2016
The first large skipper of the year was recorded on Sunday's transect walk. A speckled wood and a female brimstone were also seen. A broad bodied chaser, beautiful demoiselles and large red damselflies were spotted around the ponds. Brown china mark moths were abundant in the pond side vegetation again.

12th June 2016
While Sunday morning was a wash out, one brave family turned up for pond dipping. They then proceeded to catch an impressive two great crested newts. A baby grass snake (this year's) was spotted to the delight of the two young children. Brown china mark moths were abundant on the vegetation around the ponds. Bull finches were seen in Bloomers Field and a green woodpecker was heard in the distance.

11th June 2016
A warm if overcast day brought a sighting of the first meadow brown and common blue butterflies for the year. Excitingly a dingy skipper was again recorded in the ditch near Coldharbour. At least thirty common spotted orchids were flowering around the reserve. This is our highest count to date and includes a plant in the Wildflower Meadow where they have not been observed before. As they come into full flower over the next couple of weeks no doubt more will be seen suggesting they are beginning to establish and spread. Grass vetchling, a new plant for the reserves, was found flowering in the Orchard. The day flying moths, Mother Skipton and Burnett Companion, were seen in the meadows. Two male bullfinches flew up from the grass in the Wildflower Meadow, a heron flew over and stock dove and skylark could be heard calling from nearby fields. Broad bodied chaser dragonflies were patrolling the ponds and lots of damselflies, predominantly azure and large red, were present.

4th June 2016
There have been sightings of great crested newts in the new scrapes and ponds in Bloomers Field. This is great news and suggests that our strategy of increasing their numbers by creating more habitat for them on the reserves is working. I am also delighted to say that dingy skippers have been recorded twice in recent weeks. They seem to favour the ditch near Coldharbour and appreciate the bare clay, sunny aspect and shelter from any breeze. Their food plant, birds foot trefoil, is abundant in Bloomers Field. The flight season of the dingy skipper is just finishing so there will probably not be any more sightings this year but it is good to know we still have them even if we only see one or two insects a year. Look out for common spotted orchids in flower on the reserves in June. The flower spikes are now pushing up and turning pink.

27th February 2016
Redpolls and siskins around the ponds. Bullfinches too. Buzzard seen flying over the fields to the West of Beacon Field. The first dandelions are starting to flower.

20th February 2016
Smooth newts visible on the pond floor of the pond nearest the scout hut. Two greenfinches on trees to the North of Jenners Field. Lesser celandines flowering along the ditch by centenary hedge. Bullfinches heard calling near Coldharbour. Lots of bue tits across the reserves.

13th February 2016
Two buzzards over the fields to the West of the reserves calling frequently.