Thursday 28th June - Ray Baker
It was extremely hot and steamy over the reserve during my afternoon walk today and the continued hot weather had brought out a few more butterflies - mainly Meadow Browns of which I counted 24, but also 2 Large Skippers and 2 Speckled Woods. When talking about Large Skippers, the 'large' should probably be in quotations, as it is purely a comparative term, with them still being roughly thumb-nail sized. It was the first that I have seen this year though, so a good sighting.
When going around the reserve, I checked the 4 reptile traps that seem to be the only ones that we have left (wonder what happened to the others?) and found no Grass Snakes again. This has been the case every time for the last 2 weeks - prior to which I was seeing quite a few snakes each time.... I wonder if this is some sort of seasonal phenomenon?
Down at the pond, I saw the same 2 Broad-bodied and 2 Four-spotted Chasers as the previous trip, and again was struck by the number of Azure Damselflies that were in the area - all brought out by the hot weather I expect.
Looking at the newts - I could see about half-a-dozen in the very clear water of the upper pond, and they were all Great Crested... It will be interesting to see how many adults we catch during the July pond dipping session and what species they are. I also disturbed an adult frog as I was walking around the pond - that's quite a rare sight!
Tuesday 26th June - Ray Baker
I had a walk around the reserve late morning, in the hazy sunshine and light breeze - I was struck by just how tall and lush the meadows were looking... Obviously all this rain is to their liking.
I had thought that I might see a few butterflies today, but not much to report. There was a Red Admiral in the orchard and a few Meadow Browns in (funnily enough!) the meadows, but other than an unidentified smallish white in the pond enclosure, that was about it. It is shaping up to be a terrible year for butterflies, and it remains to be seen whether this will just be an aberration from which they can recover, or whether lasting damage has been done to butterfly populations. Fingers crossed.
I did come across a Banded Demoiselle in amongst the long grass by Coldharbour and also 2 each of Broad-bodied and 4-Spotted Chasers around the pond. The female of the former was laying eggs, mainly in the 'tadpole' scrape - typical, if our frogs return next year, they'll have loads of dragonfly larvae to content with as well. I don't suppose that this is their motivation for doing it, but the broken branches that the thugs throw into the ponds make excellent perches for territorial dragonflies! There were again lots of damselfies to be seen - mainly Azures with the occasional Large Red. In a disappointing development, what I thought might have been a White-legged Damselfly has now been definitively identified as a newly-hatched Azure.
I could see a few adult newts in the ponds, but nothing like the number that were present a month or so ago. I suspect that the majority of them have now left the pond to resume their careers on terra-firma, but I wonder why they haven't all gone? Maybe it's like birds, and non-breeding adults behave in a different way to those that have successfully raised young.
Plant-wise it was interesting too... By the W5 ditch we now have a few of what I think are just thistles.... whatever they are, they are very popular with the insects and were absolutely smothered in bees, beetles and flies (until I got the camera bit too close anyway) so it will be good if they establish decent sized clumps. I was also intrigued by the attached small blue flower which is growing by the pond, which I guess is some sort of wild pea?
Tuesday 19th June - Ray Baker
There are a number of things which are supposed to signal the start of summer - (more than!) a single Swallow, being able to put your foot on 12 daisies, but I heard a new one the other day "Summer is when bird-watchers start to look down instead of up." ....referring to the fickle nature of us birders who lose interest in our first love during the doldrum days, and start to develop an interest in butterflies, dragonflies and even moths instead! And so it was today as I spent a bit of time down in the pond area, with only the occasional soft phweeet of a pair of Bullfinches and the ever-present House Sparrows to keep me company.
For some reason, I forgot to take any photographs of the creatures that we caught during the pond-dipping session on Sunday - which was a bit of a schoolboy-error, as we caught some interesting things - so I popped down today with a net and a tray for another go. The majority of the tadpoles have now turned into froglets and can be seen wading and swimming about in the flooded area around the 2 scrapes - I noticed that some pond vegetation has started to sprout in these, which was good. I caught a fair few newt efts, and it is noticeable that those from the lower pond are much paler in colour than the ones from the upper pond - presumably, so that they are better camouflaged against the clay-coloured water.....
I did get a few other photographs, which I will put onto the 'Pond' section of the gallery.
In other news, John and I thought we had seen a White-legged Damselfly around the pond on Sunday, but weren't 100% sure - in a complete repeat, I think I saw one today, but again am not 100% sure on id... I did get a photograph this time though, so hopefully will be able to nail it down in time. What I definitely did see though was a female 4-Spotted Chaser - again a first in the reserve for this year.
There were 2 young Grass Snakes under the mat in the pond enclosure and when checking the one in the Derek Slade spinney, I disturbed 2 Meadow Brown butterflies from the bottom of Bloomer's field - the first of the year for me.
Froglet Newt eft
Saturday 16th June - John Madden
I checked two of our reptile survey sites today. The one near the ponds revealed four young grass snakes. So far that is the most I have seen in one place. The second site was the one in the orchard. Like Ray I did not see the grass snake that has been a regular there in recent weeks but I did see the lizard. It is a common lizard and to my knowledge the first to be seen on the reserves. In fact while I have heard reports of slow worms and adders being seen locally I have never heard anyone mentioning common lizards near the reserves. What was doubly surprising is that we have seen it very near to where the Surrey Amphibian and Reptile Group carried out an unsuccessful search specifically for these animals a few years ago. So we had a nightingale last year and now a common lizard. I wonder what the next surprise sighting will be on the reserves.
Friday 15th June - Ray Baker
I went for a quick walk around the reserve this afternoon - just to have a look at 'the state of the nation' but also to check all was OK for the scheduled pond-dipping on Sunday.
No worries as regards water levels - there's not been any discernable drop since I was there 2 days ago, and I just made it home today before another downpour, so plenty of water. I had hoped to see a few dragonflies, but the sun had gone in and there was nothing to be seen.
The meadows are looking extremely lush and well-grown at the moment - all this rain has obviously been to their liking, but it is mainly the grasses which have shot up and are threatening to swamp some of the smaller wildflowers. The patch in Bloomer's Field which has been re-sown following a bonfire looks very good - I've attached a couple of photographs.
The patches of annual wildflowers alongside the path in Jenner's Field aren't looking too successful - they have been swamped by the bracken, grass, nettles etc
I didn't check all of the reptile-traps - just the one in the orchard which seems to be the most reliable, and for the first time - no Grass Snake. What I did see though was a large lizard - this being the first one that I personally have ever seen on the reserve... It's a pretty poor photograph, so not sure if it identifiable by species, but it was pretty big being about 15cm or so in length. One day I WILL get a photograph of a Grass Snake!
Wednesday 13th June - Ray Baker
There seems to be quite a few young Nuthatches around the orchard area at the moment - it is difficult to tell precisely how many, as they are not very sociable birds, but judging by the speed with which my feeders are getting emptied, there are quite a few of them. We did have one pair nesting in a box on the chestnut trees and there could well have been others nesting in natural holes in the area of the Butterfly Garden and allotments. In other bird news, the Whitethroat from the other day was still singing lustily from the bushes alongside the path by the pond - no sign of any other bird though, which I guess is not very surprising - it's very late in the breeding season to be looking for a mate.
I had been for a walk around the wider area, so arrived at the reserve at about 11:00, and was hoping that I might see some butterflies in the warm sunshine but didn't see a single one! It was very slow elsewhere too - I had only seen a Small Copper and 2 Small Heaths in the general area, but nothing on the reserve itself. Time will tell I guess, but you might imagine that the extremes of weather this Spring will make this a difficult year for butterflies.
I called in at the pond and was struck by the fact that there are now zero Damselflies emerging onto the vegetation in the upper pond - which contrasts very sharply with the situation a couple of weeks back, when there were scores of them. I don't know whether this is due to the fact that they have one single period for emergence, or whether the temperature was just a tad low yesterday, but a very marked difference at any rate. There are still a few blue damselflies around (Azures) but nothing like the numbers of the other week, and I saw no dragonflies or demoiselles.
I don't suppose there actually are any more Grass Snakes around than previously, but the new 'traps' certainly make them easier to see, and today there were snakes in the pond enclosure and also at the top of the orchard - very good anyway!
Monday 11th June - Ray Baker
I have been away in Turkey for this last week and returned to find that it has been raining more-or-less continuously whilst I've been away, and so I thought I'd pop down between showers to see what has been happening to the pond. Very much a case of water, water everywhere and our 4 ponds have now become 3, as the lower of the 2 scrapes has now joined up with the larger pond and the previously marshy channel that separated them is now under about 5cm of water. More water is flowing freely from the upper pond into the upper scrape and only about another 2-3cm is needed before that gets engulfed too! The wildlife is taking advantage of these new transport mechanisms to move about, and I saw a Great Crested Newt come up for air in the upper scrape.
The tadpoles seem to be still doing OK - they mainly are still in the early stages of metamorphosis into froglets - just starting to develop their hind legs, but still with quite big tails, and I would have thought that they are probably a bit big now to fall prey to newts or dragonfly larvae, but of course there are still the Grass Snakes.... One of which I saw under our new 'traps'. Sadly it slithered off before I could get a photograph - not enough hands to deal with the felt sheet and man the camera!
I thought my ears were deceiving me - still being in Turkish-bird mode - but no, I really did hear a Whitethroat, which came up and perched on one of the taller trees in the pond-side hedge. My first one of the year in the reserve, and it was singing really actively.... Don't know why that should be, but most likely reason is that it is an un-paired male and I guess there could be many reasons why that should be. Good to hear at any rate.
Friday 8th June - John Madden
What a wet windy day. There are broken branches and twigs, wind blown leaves and other debris everywhere. All the soft growth is getting a prune. In the Quiet Garden there is a medium sized birch with the top half laying over at 90 degrees and the top branches touching the ground although the trunk seems undamaged. In the new pools by the ponds it was heartening to see that the tadpoles with legs have transformed into frogs with tails. It is fantastic how the big bloated tadpoles shrink and become more defined as the underlying frog shape emerges. Presumably it will not be long before the tails disappear too and the froglets are ready to try their luck on land. They will be the first froglets to complete their metamorphosis in the ponds since they were constructed in 2000. In Bloomers Field the bonfire patch sown with cornfield mix is nearly at its best. It is now covered in mayweed, poppies and cornflowers. Opium poppies, corn marigolds, corncockle and what is possibly pheasants eye are not far away from flowering. In the new ditch by Coldharbour loads of tiny grasshopper nymphs jumped out of my way as I walked along it. There seem to be at least two different species judging by the colour patterns. Some were almost certainly common green grasshoppers. I was examining the betony plants that were seeded a couple of years ago. There are now dozens of thriving plants which are just starting to send up flowering shoots. They should make a good show and are a great bee plant.
Monday 4th June - John Madden
Ray and I have now started to monitor reptiles by checking artificial basking sites which we have created around the reserves. These have proved a great success. I have now checked these locations three times. Each time I found an adult grass snake in the orchard and three small grass snakes all together near the ponds. As we build up a picture of where the snakes are and when they are seen we will be able to improve the habitat by providing piles of logs and brash and also building piles of rotting vegetation such as hay and grass cuttings near by to encourage breeding.
My experience locally is the same as Ray's. Azure damselflies are very common, common damselflies less so. The way I always tell Azures is to look at the second segment as Ray points out. Unfortunately these insects are rarely in one place for long and the U shape is usually glimpsed. The "uprights" of the U are not easy to see as a good side view is difficult to get. However even with a poor view, from above, the bottom of the U can be seen which basically appears as two parallel thin black lines and this is diagnostic for an azure damselfly. In my own garden in Crowhurst I also get white legged damselflies which are an uncommon species in the UK. These are all white including the legs which also have very thin black lines along their length. Hopefully we will record them on the reserves at some point and please let us know if you see one.
Wednesday 30th May - Ray Baker
I have been growing some Devil's Bit Scabious from seed kindly donated by Tony Anderson from the Hedgecourt reserve, and I popped down to the pond late morning to plant the seedlings. Mainly due to being burdened by tools etc, I had neglected to bring my binoculars or camera with me, which was a shame as the pond area seemed to be very lively!
In addition to the now fairly commonplace Beautiful Demoiselles (had earlier seen one in the butterfly garden too) I also saw a Banded Demoiselle, which is a more common insect but the first time that I have ever personally seen one on the reserve, plus a large, brown dragonfly which I think could only have been a Brown Hawker - the other potential confusion species are much rarer, and I did see a Brown Hawker around the pond last summer, so I know we do get them and they are pretty common. Very impressive nonetheless, as they are one of our largest dragonflies, being up to about 6cm long!
Before getting off of the subject of dragonflies etc, I have struggled a bit to tell the difference between 2 of our most widespread blue damselfies - the Common Blue and the Azure Blue (interestingly enough, I have been doing a bit of surveying around some of our local ponds and we appear to have vastly more Azures than Commons...) but I think I have finally managed to get a photograph that illustrates the differences rather well, mainly because the dragonfly in question was more interested in eating its lunch than me poking a camera at it!
The 2 key markers for Azure Damselflies, which are lacking in Common Blues are: Azures have a mark resembling a flat-bottomed 'U' on the second section of the abdomen, and also they have a 2nd fine black line down the side of the thorax. I have marked them on my photograph below, and you can see them in the field (with good binoculars or camera!)
In other news, the tadpoles are just starting to develop their hind-legs and I thought I caught a brief glimpse of a newt eft in the murky water of one of the new scrapes - we could do with a bit of rain I think, the smaller pools are starting to look a bit stagnant.
I will attach some photographs from last year to illustrate the Banded Demoiselle and Brown Hawker.
Banded Demoiselle Brown Hawker
Azure Damselfy illustrating some of the field marks for identification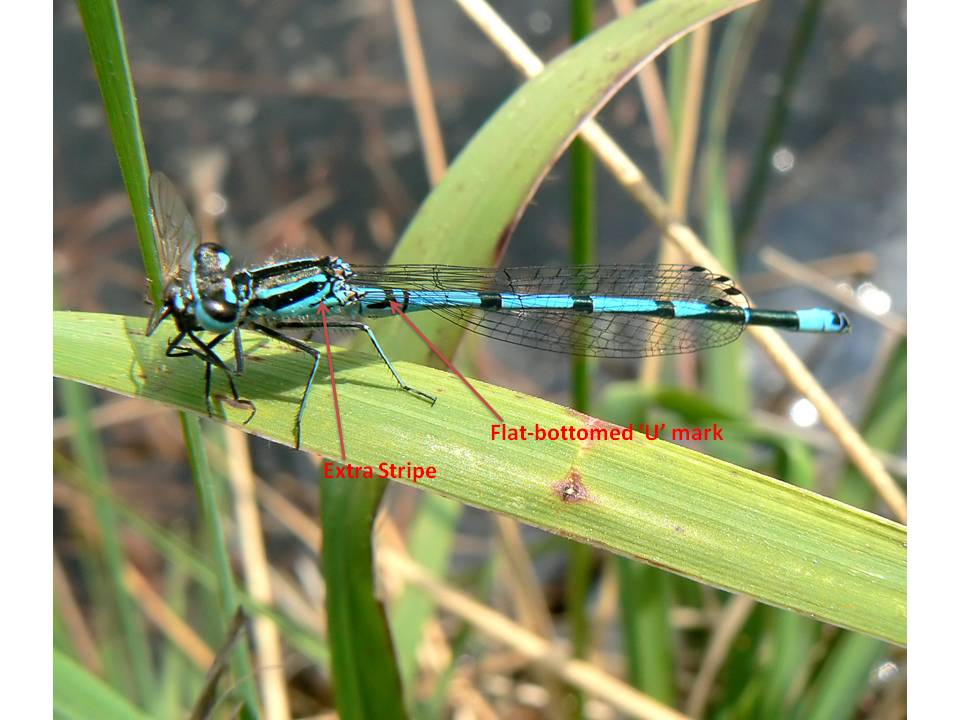 Sunday 27th May - John Madden
Like Ray I visited the reserve today. The main reason was to walk the butterfly transect and carry out our weekly count. I was struck by the number and variety of insects around. The ponds were humming with bees exploring the bare earth banks. But everywhere there seemed to be clouds of insects wherever the sunlight silouetted them so they were visible. Unfortunately only a small copper and a small white butterfly ventured near enough to me to be counted as I walked round the transect. I also saw several beautiful demoiselles in various locations. The females have all brown wings and are greenish while the males have black wings and are more bluish. I too noticed the masses of azure damselflies egglaying in the ponds. Yesterday I saw a grass snake in the South pond coming up to breath. To answer Ray's question, I gather they do eat newts but tend to concentrate on frogs earlier in the Summer then move to newts as these stay in the ponds later in the Summer. Now the South pond has cleared the newts can be seen really easily and you can see there really are dozens. I counted eleven great crested newts yesterday without looking particularly hard.
It is noticeable that the colours in the meadows are changing. Earlier in the Spring the dominant colour was green but now the grasses are flowering there is more variety. The sweet vernal grass adds a khaki tinge, while meadow foxtail flowers are almost orange and some are cream. Yorkshire fog is adding a pinky beige flush. And that is without all the flowers that are now starting to bloom. Sorrell flowers are streaking the fields with rusty red. Red clover, white lesser stitchwort, black and cream ribwort plantain, golden meadow buttercup and yellow hayrattle are out and adding interest. Soon, in the wild flower meadow the white oxeye daisies will give it that classic meadow flower look to add to the pink ragged robin and red campion which are already showing.
Sunday 27th May - Ray Baker
With dragonflies and butterflies in mind, I paid a lunchtime visit to the reserve rather than go early in the morning for birds, and it was very much a case of quality and quantity! The quantity part pertained to the number of damselflies that were patrolling the ponds and busy mating. I do have some photographs which I will sort out later, but I expect that they were Azure Blues or maybe Common Blues and reckon that there were approaching 100 around the ponds, with a few Large Reds for a bit of variety. There were also both male and female Broad-bodied Chasers and I watched the female ovipositing - hovering just above the water and then dipping down to momentarily touch some vegetation on the water surface and deposit an egg.
There was also a Grass Snake in the upper pond - not sure if they eat newts (I'm thinking that GCNs are probably a bit big) but there were still many, many newts on display.
Walking around the reserve, I was impressed by the meadows, which are looking lovely but not many butterflies to be seen - just a couple of whites, which I fancy were Small Whites, but I did see a Dingy Skipper (if ever a butterfly was aptly named, this is the one!) in the W3 ditch and a Small Copper as I was crossing Beacon Field. If anyone hasn't seen it yet, the beacon post and brazier was erected last week.
Finally, I was checking out the Alkanet in the orchard and saw not one, but 2 Beautiful Demoiselles - we seem to have a lot of these around here, as I had one helping me wash the car this morning - attracted by the smell of water I wouldn't wonder.
I mentioned in my 'Bird of the Week' last week about Buzzards being illegally persecuted by game-shooting interests.... Well, good old DEFRA have solved this problem - they've legalised the persecution!! They have made £375,000 of public money available for Buzzards to be 'removed' from where they are deemed to interfere with Pheasant shooting..... You couldn't make it up!!! Simon Barnes in The Times wasn't impressed either - have a look if you're interested.
Beautiful Demoiselles Grass Snake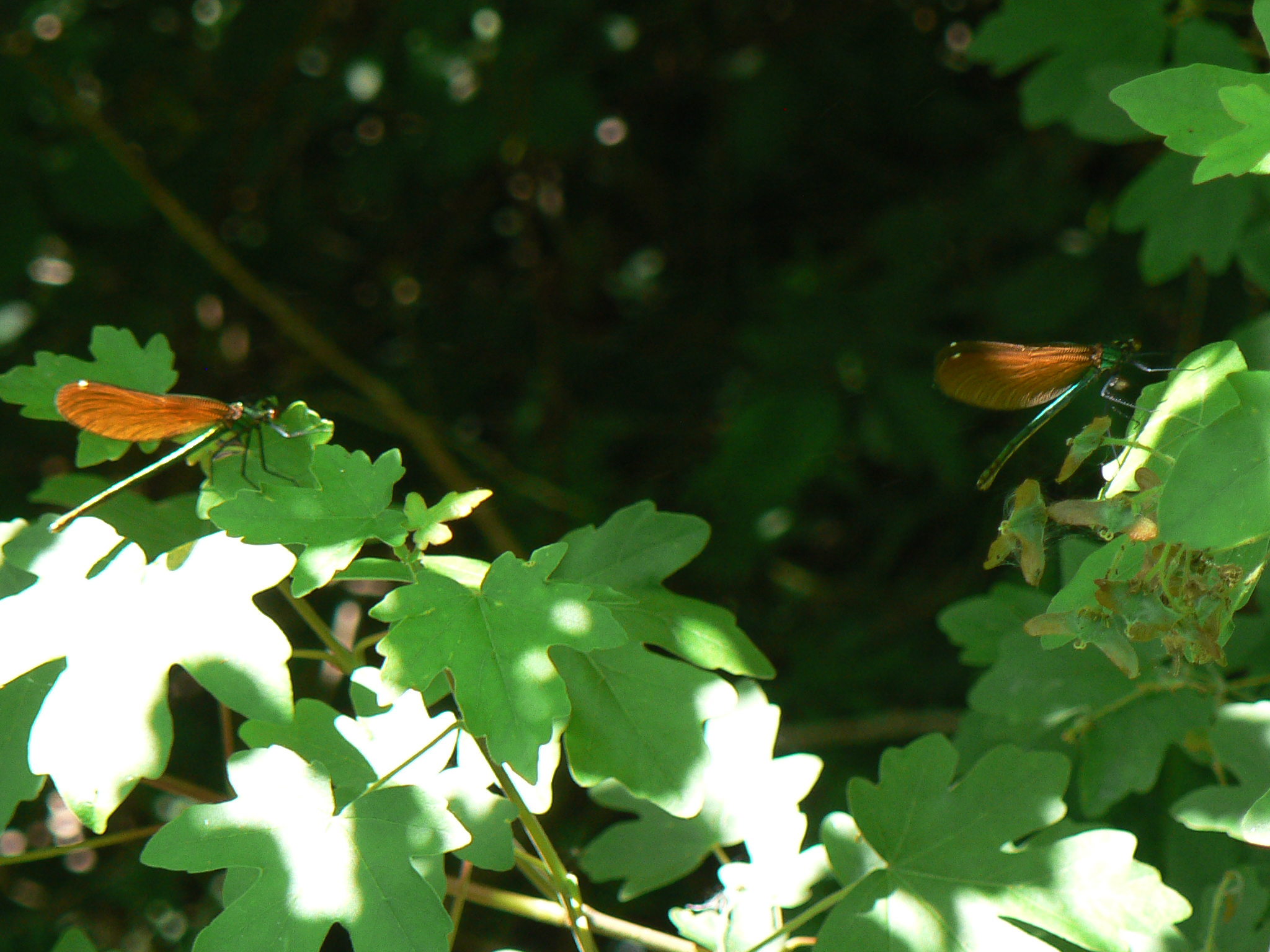 Broad-bodied Chaser (male) female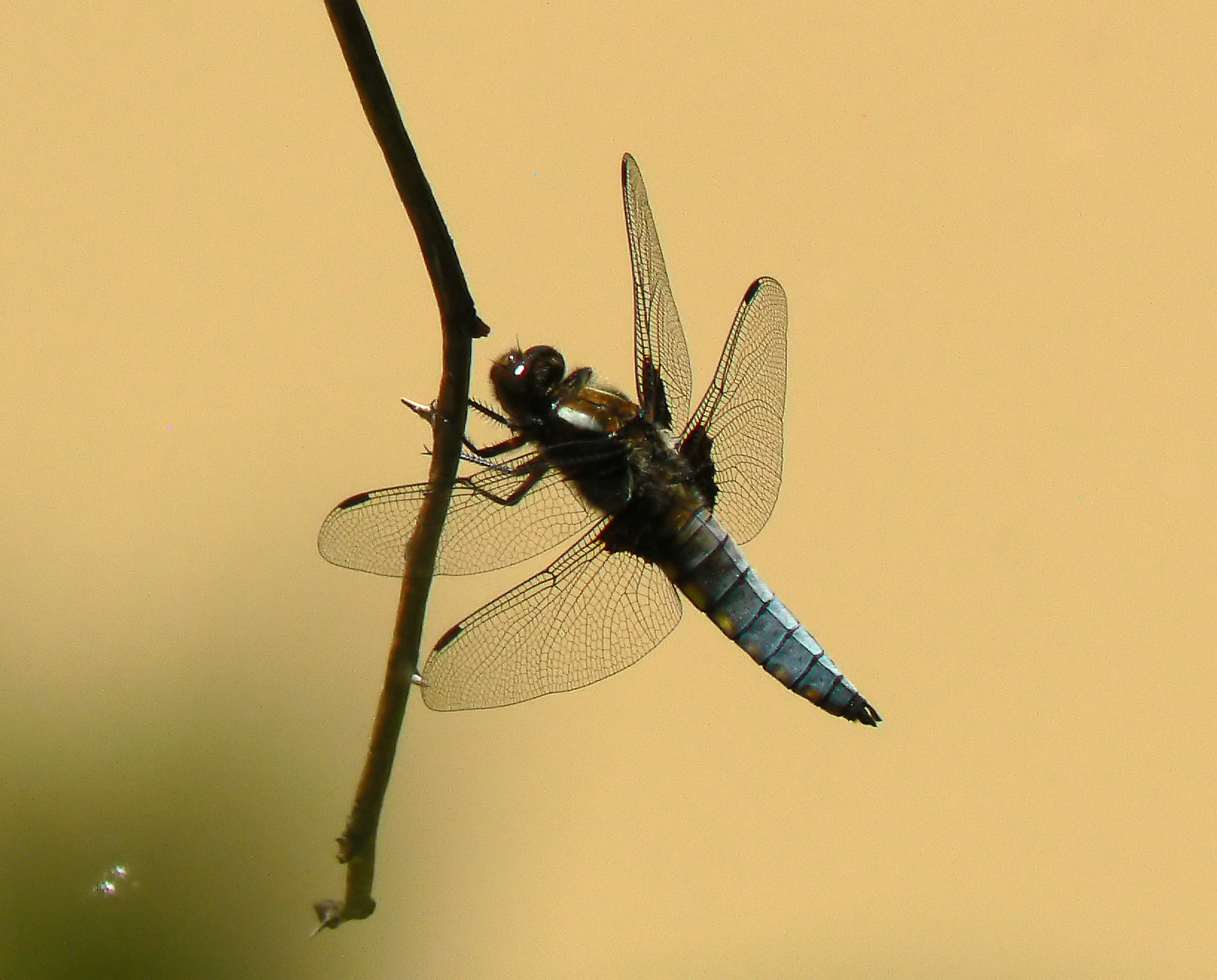 Monday 21st May - Ray Baker
I have been a bit busy recently on other duties, but did notice a couple of damselflies down by the pond when I did quick visit late on Sunday afternoon - one was a Large Red and not too sure about the other but some sort of Blue I reckon - it was quite newly-emerged and was so shell-shocked by the cool weather that it sat on my finger whilst I tried to commit salient features to memory (hadn't taken camera - when will I ever learn!) and it was a bit peculiar in as much as the head was well marked with pale streaks and the abdomen dark, but with very fine blue lines between each section. I went back on Monday (with camera) but of course couldn't find it again.
There were several damselflies just in the process of emerging from the water and I remember being at the pond on a sunny day last year and watching the House Sparrows hoovering them up as fast as they emerged - tough life being a Damselfly!
It'll be worth keeping an eye out for dragonflies and butterflies this week as the weather warms up - a rough rule of thumb is that butterflies will only be on the wing at about 13-14c if it is sunny, 18c if it merely bright, and dragonflies basically don't fly at all unless the sun is out, so they hopefully will have a field day this week.
On Sunday night I was walking down the path at the side of Jenner's Field and a small male Sparrowhawk decided to do a strafing-run down the side of the Centenary Hedge... Quite funny actually to hear all of the small birds giving their frantic alarm calls in series as the predator came into each area in turn - not so funny f you are a Blue Tit though, I'm guessing!
I also noticed this attractive flower in the Wildflower Meadown - I'm useless with wildflowers (spend too much time looking up rather than down!) but think this might be a Ragged Robin - don't know if it's something that we would have introduced ourselves at some time, or whether it's just found its own way.
Tuesday 15th May - Ray Baker
Pond matters: I have been entering the 'recorded catch' from our first 2 pond-dipping sessions into the spreadsheets (see 'Pond Dipping' under the surveys tab) and already some interesting observations are starting to be noticable. Just for anyone who doesn't know already, here's a bit of background about the ponds.
The 2 ponds were originally dug in 1998 and quite quickly became populated with a range of flora and fauna - there is a slightly smaller upper pond and the main pond down opposite the gate. The main pond has always suffered from poor water-retention, and whilst it is natural for water-levels in a pond to fluctuate, or even dry out in a hot year, we were in danger of our main pond disappearing altogether due to lack of water and infill from silt and vegetation. In September 2011, it was decided to take the brave step of dredging out the main pond (which was nothing more than a damp patch at the time - see the photos in the 'Historical' part of the gallery!) to remove a lot of the silt, re-sculpt the topology and to re-establish a solid clay base to the pond to try to improve its water retention. Interestingly enough, the upper pond - although much smaller - had always retained water very well, so we did not have to do any remedial work to that one, over and above the usual thinning of vegetation that we undertake anyway.
As soon as we started to get some rain in the Autumn, the main pond has filled up to a depth that is very good compared to the previous situation, so we are beginning to be encouraged that water-retention has been improved - we just need it to stop raining for long enough to test the theory!
In an ideal world, we would have liked to have retained a bit more of the old pond vegetation, but in order to achieve the modelling of the pond-bed that we wanted, most of it went under the wheels of the digger. Not to worry though, as it is already showing signs of re-growth and the ugly clay banks are starting to green-up too.
Anyway - back to the pond-dipping.... The first one was held on April 1st and we had reasonable catches from both ponds - we hadn't really been keeping records from previous years, but I think that the perception was that our catch was broadly in line with expectations. But then, by the 2nd session on May 13th, it was all change, with much more being caught from the upper pond than the main pond. No real idea why, but a couple of possible explanations do occur to me... 1. With so much water in the pond, it is easier for creatures to take to the deeper water and get away from the edges, so they are harder to catch... and 2. There are some patches of retained vegetation in the main pond, but nothing like the fully-vegetated upper pond, and maybe some of the smaller creatures are now hatching out of the weedy areas as the water starts to warm up a bit.
It will be very interesting to see how subsequent dipping sessions pan out this year, and even more so, what happens next year, when you might expect that the main pond would have become much more vegetated than it is now.
Monday 14th May - Ray Baker
I escorted some of the Monday 'Walking for Heath' group on their regular walk, and we went through the reserve on our way out and back, and were pleased to hear many of the regular birds singing as we passed. The resident Greater Spotted Woodpecker was drumming away right on cue, and some were lucky enough to get a reasonable view as he sat on his usual dead tree, and Blackbirds, Robins, Wrens, Chaffinches, Song Thrush and a Blackcap all sang for us too - I think the walkers enjoyed it, plus we bumped into a co-operative Goldcrest which was singing loudly as we exited the reserve to come out opposite the library.
Some clever person once said "40 years ago, I knew nothing about birds, but now I know enough to know that I know very little." and the point was proven to me yesterday when I learnt from my neighbours that the Starlings in their roof are re-building their nest already - presumably for a second brood - despite the fact that the first set of birds only fledged a week ago.... No peace for the wicked!
I am strongly getting the feeling that Spring is starting to feel a little 'held back' and that all that is needed is a little help from the weather and lots of things will suddenly burst forth! I have already learnt this year that if the sun comes out, even briefly, then butterflies will emerge in reasonable numbers and last week I saw my first damselflies of the year - 2 female Large Red Damselflies, and yesterday I found a Beautiful Demoiselle on (of all places) my washing!! Dragonflies and Damselflies are wonderful creatures (if you are lucky enough to get a good photograph to examine at leisure, that is) and this year we have determined to take a more serious look at the species that we host around the reserve - we enjoyed an excellent talk from a local expert last year, and fair to say, she has tickled our curiosity bump. But dragonflies will only fly in the sunshine, so that's what we need!
At the pond-dipping day yesterday we had a good catch, including a species previously unseen by any of us, but which I have tentatively id-ed as a Soldier Fly larva.
Large Red Damselfy - this is a female, males are redder Beautiful Demoiselle
Monday 7th May - Ray Baker
Quite a shock this morning to see that the forecast rain hadn't arrived (yet!) and that there was even a bit of watery sunshine trying to get through the murk. I had cancelled the planned dawn chorus, partly due to the awful weather forecast, but mainly because we do not have any Spring migrants on the reserve, and this second regard still held true, with there even being no sign this morning of the Lesser Whitethroats from a week ago either.
What there was though was baby birds! The species which are native to the UK all year round breed early and today there were several fledgling Starlings and a fledgling Pied Wagtail feeding on Jenner's field (I had young Starlings, Blackbirds and Collared Doves on my lawn yesterday) plus I saw another baby Robin just by the top of Beacon Field.
Quite surprised that the water level in the pond has dropped by about 4cm since last weekend, and there were noticably less tadpoles to be seen today - maybe their break for freedom was ill-advised - although it could just be that they were waiting for it to warm up a bit.
I did a walk around the immediate local area too, and located 3 Lesser Whitethroats on the far side of the sheep field down towards Lingfield Common Rd - which was a bit weird as they were just traversing up and down the hedge together, whereas you might expect some friction in a group of 3 as they try to pair up. I'm not sure how you can seperate the sexes of LWs (I can't) so maybe it was just a single-sex group and the green-eyed monster had not arisen!
I spent some time trying to get a photograph of the Bullfinches in the Wildflower Meadow and didn't entirely succeed (see below) but I include it here in view of an even more unusual sighting immediately behind the birds.... I need to double-check my reference books, but I think it is called Blue Sky!!
Monday 30th April - Ray Baker
It was quite unusual to be taking my regular morning walk in bright sunshine today - very pleasant! Still very quiet on the migrant-front with just a few Chiffchaffs making themselves known around the reserve. I did see another Lesser Whitethroat in Cobham Hedge by where the burnt patch is - and this is a different one from previous days, as that bird was still singing up in the Wildflower Meadow when I passed by there. I did see my first Common Whitethroat in the immediate area of the reserve - just outside in the hedge around the sheep-field - better late than never! This is a very very strange Spring - I have had 4 Lesser Whitehroat sightings in the vicinity of the reserve and only one Common Whitethroat, whereas business as usual would probably be 100+ Commons to each Lesser!
I also took advantage of the sunshine to just sit quietly on the bench in the Wildflower Meadow and see what came to me....This is often the most effective way to bird-watch. It was good to see that the pair of Bullfinches are still in 'Nightingale Corner' - first time I've seen them for a few weeks, and there were also a pair of Blackcaps feeding in the large Willow tree, and a Song Thrush really belting it out right above my head, plus a Skylark singing from high above. I sat there for 20mins or so until the dog-walkers got to be so many that the birds had all taken to cover, before calling it a day and heading home for some breakfast.
If the sun stays out, I may do this week's butterfly transect later on, as I think rain is forecast to return from tomorrow.
ADDENDUM: I did the butterfly transect at lunchtime - nothing too stunning to report, just a male and female Orange-tip, 3 Speckled Woods and a Holly Blue - I also saw a Peacock but I had strayed off-route, so it can't be counted.
I should also mention that some of the tadpoles have been staging their amphibian version of The Great Escape - taking advantage of the small stream flowing down to escape from their original scrape into the lower one, and then probably on into the main pond, but of course, you can't see them in there!
Saturday 28th April - Ray Baker
After the sunny interlude yesterday it was business as usual this morning and I took my early walk in light but steady rain! Yet again it was very quiet around the reserve - the lack of Spring migrants is starting to move from 'unusual' to 'worrying' and yet again there was nothing to be heard around the reserve, although I did hear a Lesser Whitethroat (probably the same one as the other day) just outside the reserve by the sheep field. It comes to something when the most interesting song that you can hear in late April is the screeching of a Greenfinch which was down by the pond!
I also saw a juvenile Robin, which is probably newly out of the nest. The rule of thumb when trying to indentify newly-fledged birds is to go by size and shape - forget plumage, as baby birds are usually dull and drab for camouflage purposes - so, if it looks like a Robin but is brown and speckly and hasn't got a red breast, then a young Robin is what it is. Judging by the noise emanating from my roof, the young Starlings are quite advanced and it won't be long before they emerge from their nests to join the adults in large feeding parties on any shortish grass - in this case the adults are dark and speckly and the young are a pale grey colour - but still Starling-shaped!
In all the butterfly excitement yesterday, I forgot to mention that I caught a brief glimpse of a small duck flying over the reserve. It was a very brief view from the rear and I didn't have time to get my bins on it, so I wouldn't be happy to claim it as a definite sighting, but my instinct (and I've come to trust my instinct over the years) tells me that it was a Mandarin duck. These exotic looking creatures have bred from escaped stock and have now established viable breeding populations around these parts - it's not a terribly unusual bird to see, but would have been a new 'tick' for the reserve if only I'd have got a decent look at it..... Shame.
Friday 27th April - Ray Baker
I popped over to the reserve briefly at lunchtime today, as I needed to do the butterfly transect survey and I had noticed a male and female Orange Tip butterfly in my garden whilst cutting the lawn - the sun had finally come out!
First thing to say is that I was quite surprised to find that the water level in the main pond had gone DOWN by about 1cm - I know we haven't had quite so much rain in the last 24hrs but we've still had several quite heavy downpours.... I wonder if we have hit some sort of drainage at those higher levels? Anyway, still plenty of water - I did a quick measure and there is over a meter of depth immediately in front of the platform.
The butterfly survey turned out to be quite good after a slow start - I wasn't particularly surprised to find a Speckled Wood as I walked through Coldharbour Copse, but a stunning male Brimstone in the Wildflower Meadow was a bit of a shock, and it was the Butterfly Garden that really came good, with 3 Orange Tips (all males) 3 Holly Blues and another Speckled Wood - I imagine that the butterflies were so pleased to finally see a bit of sunshine that they had come out in force to feed from the many flowering plants in the shelter of the BG, where the quite strong wind wasn't really reaching. It was a good count anyway.
Thursday 26th April - Ray Baker
I sploshed my way around the reserve early this morning - there is water everywhere, not least down in the pond area, where our various ponds have virtually joined up.... there is water visibly flowing from the upper pond into the main pond via the 2 scrapes, and I reckon that there is now another 10cm of water depth since last Friday, with another high-water mark being reached. I had wondered whether any of the tadpoles might have migrated from the upper scrape but I couldn't see any elsewhere. I have put a couple of photographs in the 'Pond' section of the gallery.
I also saw my first 'decent' migrant for this year on the reserve - a Lesser Whitethroat was calling in the Wildflower Meadow. The rattling 'machine-gun' song of this species is very different to the simple but rather pleasant warble of the Common Whitethroat. Note the relatively 'cold' appearance of the LW in the photograph below, compared to the more brownish tones of the CW.
I am interested in how sightings of these 2 species pan out this season.... Last year seemed a very good one for LW, which is a relatively uncommon bird - compared to the CW anyway, which are usually found all over the place. Early signs this season are that CW are proving very hard to find so far.
I also saw a couple of Magpies showing interest in something in a tree down by St Margaret's Gate, and closer inspection revealed a very soggy looking Sparrowhawk. The males of this species are stunning, and it is a photo-ambition to try to get a decent picture of one, but it won't be easy though as they are quite flighty and will seldom allow any close approach. Best chance is probably to find one eating some poor hapless victim on the lawn! Have a look at some images here
Lesser Whitethroat Common Whitethroat
Monday 23rd April - Ray Baker
Another quiet morning - plus access has been blocked to the entire bottom portion of the reserve due to a police incident.
I did see a female Blackcap in the butterfly garden which was giving it's rather harsh 'tekk' call - I've never been able to work out whether this is an alarm call or a contact call, and am none the wiser after today, as there didn't seem to be any other birds nearby and I was too far away to be causing any alarm. This harsh call is very much at odds with the beautiful song of the Blackcap, which is one of our best woodland songsters and has earned it the nickname of the 'Nightingale of the North' - this is not because it only sings in the north, but rather that Nightingales are only found in the south!
I returned home to an almighty racket going on on my conservatory roof, which turned out to be 3 Magpies trying to see off a much larger Carrion Crow. Me going outside frightened them all away but it wasn't long before a Jackdaw came down to get at the food scraps on my lawn that they had been fighting over, but that too was then seen off by a Rook which came to assume its rightful place on top of the food-chain.... All I needed was a Jay and an Alpine Chough and I would have had a corvid 'full-house'
.
If you are interested, the killer-bait for corvids is cheese-flavoured puff pastry and digestive biscuits!
Sunday 22nd April - Ray Baker
Not too much to be seen on an early morning visit - even the Blackcaps seemed to be keeping their heads down! I was able to see that both pairs of Long-tailed Tits are still in the same places as a few weeks ago, I imagine there is every chance that they are nesting nearby, even though I couldn't see the nests.
There was a kerfuffle going on in the large Oak tree above the 'triangle' at the top of Jenner's Field involving a pair of Starlings, a pair of Nuthatches and a Great Spotted Woodpecker, and with a bit of patience, I was able to establish what was going on... The Starlings have taken a nest-hole in the tree and were obviously a bit concerned about the proximity of the Woodpecker - they may well have young already and the Woodpecker will take young nestlings - so there was a bit of a battle going on, and the Nuthatches just seemed to be attracted by the noise...maybe they have a nest nearby too.
Later on, I did my first official walk around Blindley Heath as part of the 2012 BTO Nightingale Survey, and found 3 territories. Have to say that I would expect to find 1 or 2 more than that on what is prime Nightingale habitat - maybe they haven't all arrived into the UK yet.
I also found 5 species of butterflies, particularly lots of Orange Tips, which is good, since they haven't been doing very well in recent years, and then my first Cuckoo of the year just down by Lingfield Common Road. This sighting was in exactly the same spot as my first sighting last year and, in all likelihood is probably the self-same bird. It was obviously good timing to write about Cuckoos in my 'Bird of The Week' yesterday!
Cuckoo Green-veined White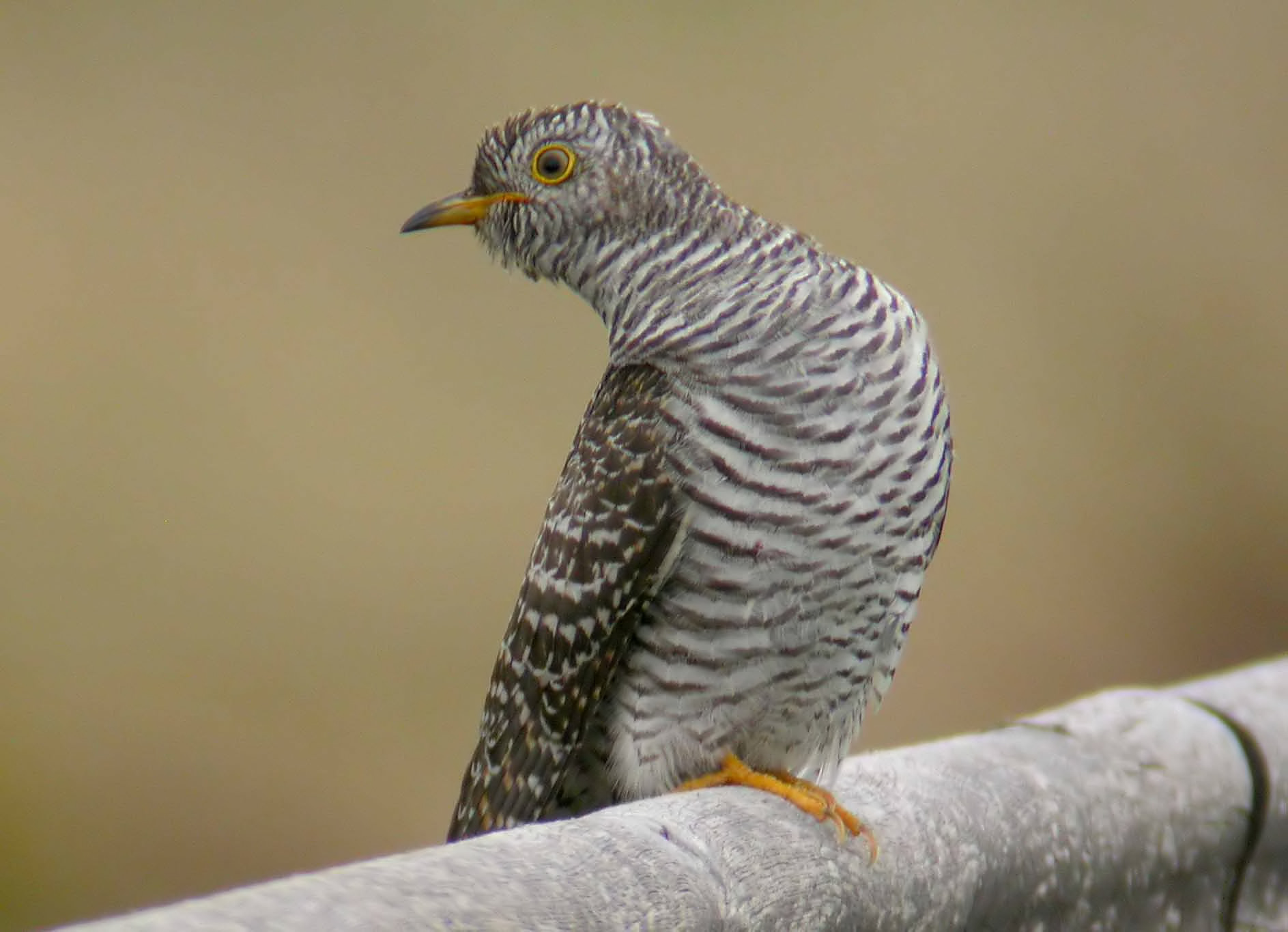 Saturday 21st April - John Madden
12.30am. I walked my third weekly butterfly transect survey today and once again saw no insects. The low temperatures and showery weather means that they are not flying very much. That said I have seen several orange tips locally including in my own garden but during the brief sunny spells we have been having between showers. One of their foodplants is hedge garlic which is now in flower in some places on the reserves. There is a big patch alongside the fence to Coldharbour. I will check it soon to see if I can find the tiny orange eggs on the flower heads. Another plant in flower on the reserves is greater stitchwort. I love these flowers (there is a picture in the gallery) and am always delighted to see them. They look superb growing amongst the bluebells under the Western hedge in the orchard. Have a look in the stretches where we have cleared the lower branches specifically to give better views of the bluebells. These flowers are also growing in Bloomers Field next to Cobham Hedge near the gate by Coldharbour.
In the wildflower meadow, the recently planted red campion is coming into flower. It will be interesting to see how they do in the meadow as their usual habitat is by hedges and wood edges and clearings. They may "move" towards the hedges if their seeds are spread to habitat more to their liking when the meadow is mowed.
The Lingfield Elm seems to be in rude health and is sprouting leaves vigorously. I examined several unfurling leaf shoots and everyone contained some kind of insect so its wildlife value is clear already. We were told that this is a wych elm but it does not seem to match the descriptions in the field guides. According to the Colins Tree Book its herring bone branch structure and the corky growths on the branches are characteristic of the english elm. I hope it is an english elm as this would be a new species for the reserves and we already have a large thriving wych elm by the allotments. We will see when the leaves grow to full size.
Friday 20th April - Ray Baker
It was lovely over the reserve first thing this morning, with the spring sunshine bright on the dewy grass, and I was pleased to see a Swallow hunting over the fields although I'm not sure it would have been having much luck finding flying insects in the cool weather. I heard 3 Blackcaps this morning and there is at last some sign that migration is starting to hot up a bit.... Being a bit concerned about impending down chorus walks that I am leading, yesterday I went for a long walk around the local area, taking in some prime habitat, and did manage to find a few Whitethroats, a Willow Warbler and 2 Reed Warblers. Have to say though that numbers are still paltry, with several species not being seen at all yet, so I reckon these just represent a very sketchy vanguard of what should really be a fully-fledged invasion by now, so they must be going to start arriving en-masse over the next few days - surely!!
I was also noticing that the Starlings seem to be actively feeding young already - usual pattern around the top of the reserve is for the adults to gather food in the reserve meadows and surrounding paddocks and then bring it back to their nest sites in the house-roofs along Headland Way - in a few weeks their well-developed young will be making quite a din as they all call out to be fed. They also share the roof-spaces with lots of House Sparrows.
I was also amused to watch the Nuthatch continually fiddle and fuss with the architecture of his nestbox (no shortage of mud at the moment!!) but I don't imagine that he will want to block up the actual entrance hole any more, as it is already a tight squeeze and he has to do a very undignified double-wriggle to get inside at all.
Water levels on the main pond are now about 8cm higher than when I last checked my patented measuring device at the end of the dry spell about 2 weeks ago - very good!
Female Blackcap (note cap is brown) Swallow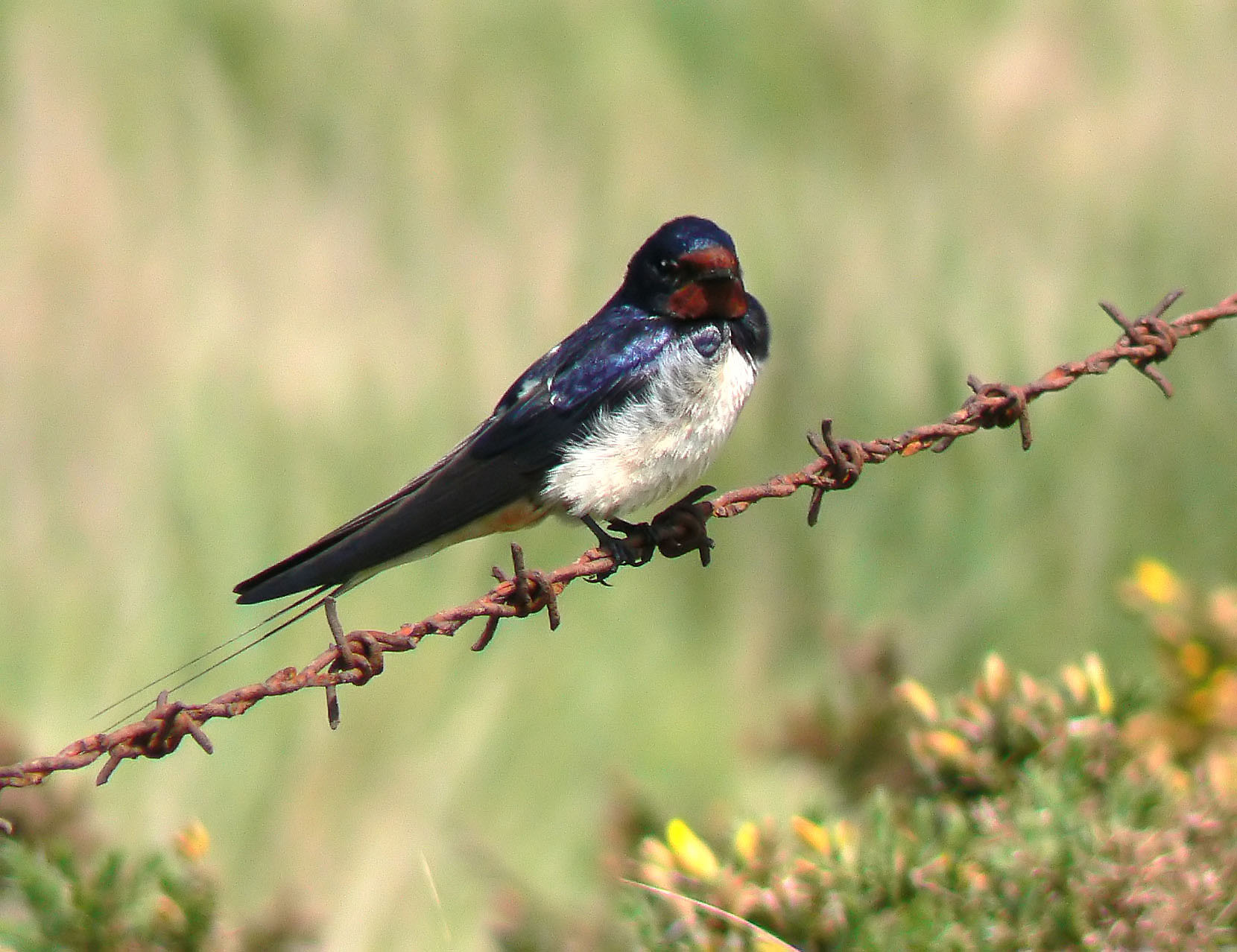 Wednesday 18th April - Ray Baker
More in hope than expectation (it was pouring and blowing a hooley!) I went for an early morning walk around in search of Spring migrants, but just about the only bird species that seemed to be visible in any numbers were Blackbirds and Starlings feeding on worms etc on Jenner's Field. Very handsome bird BTW the Starling, with its iridescent plumage and speckly front - not really done justice by my photograph, but have a look next time you see one up-close.
I saw my first Nightingale of the season yesterday, so if our one is to return, it will be within the next week or so - ears peeled!
I popped into the pond complex and for the first time saw water from the upper scrape (the one with the tadpoles) overflowing significantly into the lower scrape, which in turn was running down into the main pond, and creating a very interesting boggy area in between. If we have rain for the next several days as per the forecast, it will be interesting to see how high the water-level of the main ponds reach - they are already as high as I personally have ever seen them.
You may remember me telling you about Grey Herons and how they will eat just about anything that they can get the better of (Sightings - 14th Feb).... Well, to prove the point, here's a photograph taken by my sister-in-law last week in The Cotswolds, and it shows what I believe to be a Brown Rat coming to a sticky end!
Monday 16th April - Ray Baker
I went for a walk around the reserve mid-afternoon and it turned out to be a day of 'three's.... I saw three species of butterfly in the Butterfly Garden (Small White, Holly Blue and Speckled Wood) I've included the photograph of the Speckled Wood, as it is quite unusual to be able to see the underwing, as they usually bask with their wings open.
I then saw three Swallows feeding over Beacon field (this being the third species of summer migrants that I've seen so far this year) and finally I saw three species of raptor - a Sparrowhawk circling over the pond area, a Kestrel hunting the new sheep field, and a Buzzard soaring over towards Lingfield Common Road - very unusual to see 3 species of raptor from the reserve - a red-letter day!
I promised to have another go at photographing a Cowslip - not 100% happy with it, but better than yesterday....
I also meant to mention yesterday that I notice that the Nuthatches have walled up the small gap between the front elevation and the roof of their nestbox - this was only a tiny gap, so unnecessary you might think, but clearly they have the instinct to fill things in with mud!
On the subject of migrants, I have been comparing dates for when I first saw various species last year, and it appears that things are running a bit late this year.... I keep telling myself 'any day now...'
Sunday 15th April - Ray Baker
I'm back! - I'll do a bit longer entry today to make up for lost time.
I went for 2 walks today - a dawn walk to listen out for rare and exotic migrants (there weren't any!) and again mid-afternoon when it would have warmed up a bit (it hadn't!) but, as usual, there was still plenty to see.
Bird-wise I was pleased to hear the Green Woodpecker yaffling in the area of the Butterfly Garden, and I was struck by the number of Greater-spotted Woodpeckers that are in the area - in addition to the 2 in the reserve itself (and I saw a 3rd trying to muscle-in the other week) I was able to hear 2 more drumming from just outside the reserve - one at the far end of the new sheep-field, and another over by the Godstone Rd. The 2 Pied Wagtails were feeding on Jenner's Field along with quite a few Starlings. In terms of Spring migrants, there were quite a few Chiffchaffs around the reserve and a single Blackcap singing lustily by the allotments. Our many Woodpigeons were having a field-day eating the tree buds.
The wild garlic is just about to come into flower and I was pleased to see the flowering cowslips down by the pond and the W3 ditch - I did take some photographs of these latter, but they weren't very good, so I will have another go and put them on the website next week. The garlic is just coming into flower too. I was also struck by the number of dandelions that have come into flower whilst I've been away, particularly under the trees in the orchards. These are an important food plant and seem to be very popular - have a look next time you're passing on a warm, sunny day and see how many bees, hoverflies etc are on them.
On my dawn visit, I was surprised to see 2 foxes hunting in the sheep-field and judging by their 'ears-cocked, pointer' poses, it was small mammals they were after. There was also a lone Skylark singing and then landing in this field - although I don't rate its chances of successfully breeding very highly, as the high density of sheep in the field would quite likely lead to a crushed nest or eggs I reckon.
Finally, I was pleased to see (on my afternoon visit) that the tadpoles are still doing well in the little pool, and I was struck by the number of newts clearly visible in the smaller upper pond, where I counted 62 mainly Smooth Newts - quite a few for a casual inspection I thought!
Thursday 5th April - John Madden
8.00am. A cold overcast morning compared to some of the glorious days we have had recently. It is lovely to see the cherries, plums, damsons and wild pears in flower in the Orchard. The trees have been humming with various species of bee taking advantage of the pollen and nectar recently but not today. Too cold and too early. Similarly in the new pool between the ponds there were no tadpoles visible. Hopefully they are all on the bottom waiting for some sun and warmth. Though still small they have grown a lot and are now very mobile going on little journeys and appearing and disappearing in the brown silty water. They appear to have completely consumed the remains of the spawn as it has disappeared. Seedlings are starting to appear where we have been doing some sowing. The bonfire patches in Bloomers Field have been sown with cornfield annuals and some are growing well. We should have a small patch of poppies and corn marigolds in June. Also the strip of bare earth by the new path to the bench in Beacon Field is showing signs of life. Whether it is the meadow mix seeds that we sowed now germinating or just the seed bank in the spoil from the path only time will tell. It is very promising though. We now have half a dozen cowslips flowering by the ponds and the new ditch in Bloomers Field. These are the fruits of previous sowings so we are seeing our list of species grow. The two pied wagtails were in Jenners Field yesterday. I hope they stay and breed.
Wednesday 4th April - Ray Baker
I took my own advice this morning and went for a dawn walk around the reserve in search of rare migrants and found....zero! What I did find though was a Rook passing low overhead (probably our least common corvid) and a Yellowhammer singing from the hedge along by the gorse patch - I even heard a Green Woodpecker yaffling from one of the large oaks along the reserve boundary, so they are still in the area. I will be giving it another go tomorrow though, as 2 Wheatears were reported this morning only 1/2 a mile or so away.
Just outside the reserve, I saw a couple of Skylarks and 8 Meadow Pipits which were feeding in the new sheep field just outside the NW boundary.
I must have been prescient when talking about the challenges of identifying white butterflies, as today UK Butterfly Conservation issued a guidance sheet - if you are interested have a look here.
I did forget to mention that I had also seen 2 Redwings just outside of the reserve - this was the first Winter migrants that I have seen for some time. With all the warm Spring weather we have been having, you might be forgiven for thinking that they are lingering a bit late, but in previous years I have actually seen winter thrushes well into May, but I suspect not this year!
Rook Meadow Pipit
Monday 2nd April - Ray Baker
I didn't get over to the reserve until mid-afternoon today (too late for many birds) but was quite surprised at how warm it was in the beautiful sunshine, which made it quite good for butterflies instead. I saw 2 Orange Tips, 1 Peacock and Small White. It is not always as easy as you might think to tell the various white butterflies apart - Large Whites are sometimes not that much larger than Small Whites, and some butterflies which are small and white are actually Green-veined Whites, or even female Brimstones. You may think that you would be on safe ground with Orange Tips..... except that it's only the males that actually have orange tips to their wings - females being (you've guessed) white! Luckily, there is a field mark - in both male and female of the species, the underwing is heavily marked with dark green - see photographs of upper and lower wing patterns below.
Even though the weather hasn't changed today, I understand that we are in for some wilder weather, which is always good for seeing migrant birds, which sometimes get grounded by rain, mist or unhelpful winds..... So if you wake to the sound of rain lashing against your window, it might be very tempting to pull the duvet over your head but that is the type of day that you are most likely (well, ok - still not very likely!) to see a Whinchat perched up on a clump of brambles, a Ring Ouzel popping out from under a hedge, or a Sandpiper down at the pond!
Sunday 1st April - Ray Baker
Quite a few things to report today.....
You may recall me mentioning a butterfly-like creature that I saw which had me a bit baffled a few days ago - I can now report that I have seen one again, managed a photograph and have found our what it is! It is a day-flying moth called an Orange Underwing - quite a relief to find out that it wasn't a butterfly at all, as I couldn't bring to mind any species that it could possibly be....
Mystery solved (2) Just when you thought bee-related excitement had reached a crescendo, I am able to report that I have found a 3rd species of mining bee down by the pond. It is a Fabricius Nomad Bee (nomada fabriciana) - info on this species is a bit sketchy at the moment but I will try to find out a bit more, as I suspect that there might be some sort of parasitic relationship going on with the Yellow-legged Mining Bees.
We had the first pond dipping session today - very good, and there is a report under Latest News and photos in the Gallery, and results will end up on the Surveys page when I get a minute.
Having lunch in my garden (bit of a sun-trap) and noticed several butterflies - 3 Small Whites, a Holly Blue and first Orange Tip of the year, which prompted me to go back to the reserve and see if any had turned up there.... Sure enough, a single male Orange Tip seen in the quiet garden - in all likelihood the self-same one that had been in my garden earlier.
On the way back home, a Sparrowhawk was circling overhead - probably eyeing up the Blue Tits on my bird feeders!
Orange Underwing Fabricius Nomad Bee