Thursday March 28th - Ray Baker
I went around the reserve today, thinking that there might be a few more birds around, as the watery sunshine was making it feel everso slightly more Spring-like, although it was still only a few degrees above freezing and the biting easterly wind was persisting, but it was actually very poor, with even many of the usual birds failing to put in an appearance. My favourite areas of the pond enclosure, Butterfly Garden and Wildflower Meadow were all empty, apart from a couple of Blue Tits, and only a Chaffinch, couple of Greenfinches and a Dunnock could be heard singing, so very quiet.
A Song Thrush feeding in the orchard hedge was a good sighting - these are more often heard than seen at the moment, and there were a small group of Redwings feeding in the small stand of trees at the bottom of Beacon field near Coldharbour Copse.
I walked around the sheep fields, and again saw some Yellowhammers - this time feeding in the fields, as there was a chap having a bonfire in the farmyard - and I reckon there was 8 or 9 birds, the uncertainty being because I thought one that I only half-glimpsed might have been a Meadow Pipit. These Yellowhammers really are beautiful birds but, as ever, my photographs fail to really do them justice.
If anyone has got a spare minute, have a look back at the historical 'sightings' section for the end of March 2012.... Quite a contrast to 2013 with lots of tales of bees, butterflies, Chiffchaffs and Blackcaps!!!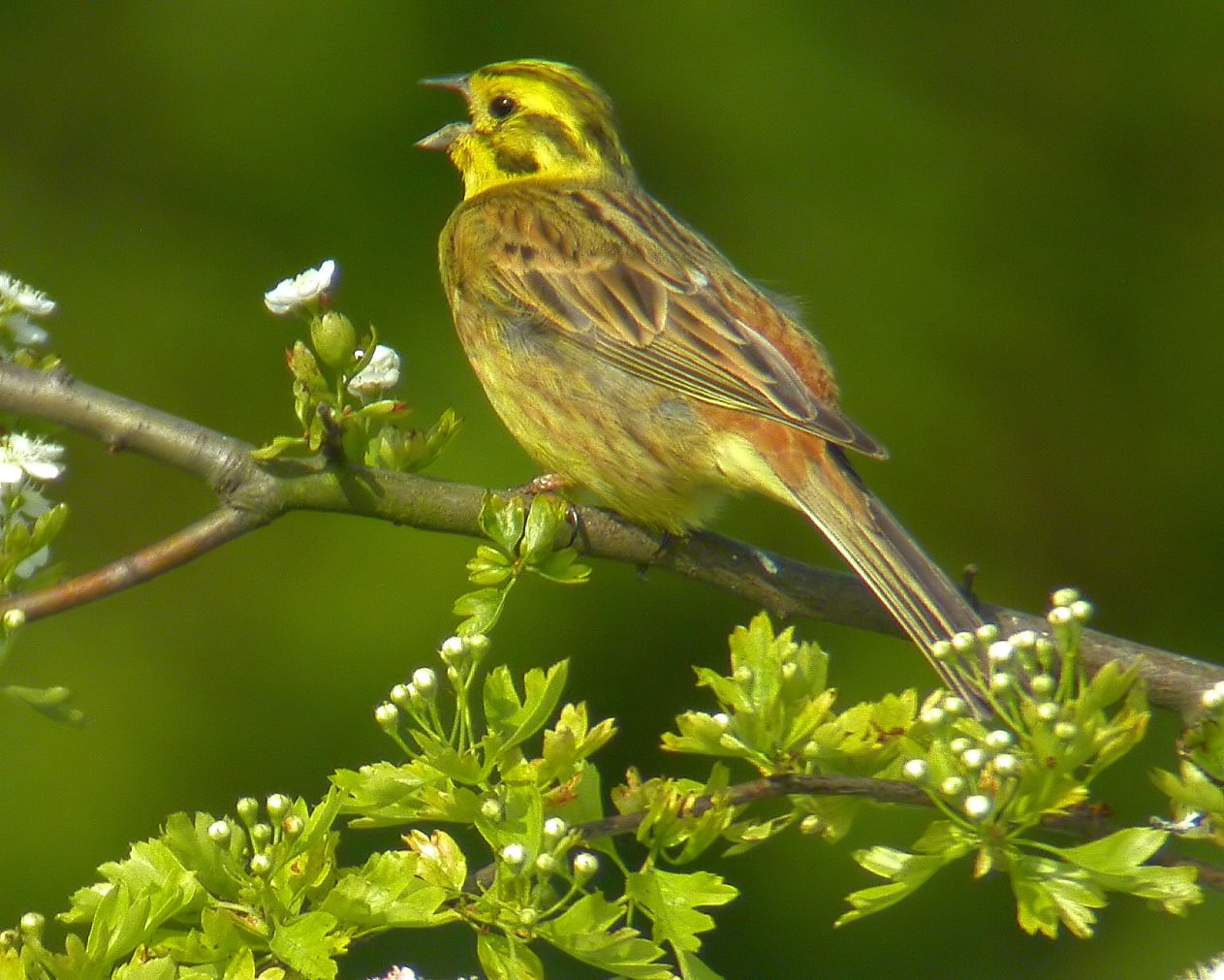 Monday March 25th - Ray Baker
Spent a couple of hours today doing a careful tour around the reserve - again no migrants seen or heard, but I have had reports of some Chiffchaffs nearby, so they won't be long in arriving.
When working the reserve yesterday, I had been surprised to have a couple of sightings of Lesser black-backed Gulls passing overhead - this is not exactly a rare bird around these parts, but quite an unusual sighting nonetheless and to see several was even more noteworthy. So it was again today, and I saw a further 5 single birds flying over - I imagine that the cold windy weather has probably driven them inland. It wasn't very Spring-like again today, with the temperature just scraping above freezing point but feeling pretty cold in the raw easterly wind.
There may not have been any migrants about, but there was plenty of evidence of birds pairing off with breeding in mind, with pairs of Greenfinch, Bullfinch and Long-tailed Tit being noted in the Butterfly Garden and further Greenfinches being seen in the Wildflower Meadow, together with 2 pairs of Goldfinch and a single Redpoll.
I also went around the circuit around the sheepfields (no sheep!) to the NW of the reserve, and saw 4 Yellowhammers, a Meadow Pipit perched up on wires and an optimistic Skylark singing away from on-high. There was also a large group of a few hundred birds feeding in the meadows down there - about 50% each of Fieldfares and Redwings with just the odd Blackbird, Song Thrush and Starling mixed in for good measure. It's a shame that these birds are so wary of human presence (and hence difficult to photograph!) as they are really beautiful now as they start to come into their Spring breeding plumage.
Friday March 22nd - Ray Baker
I was out and about on migrant-watch today.... It may feel like January, but spring is theoretically progressing, so I did a long-ish walk around the general area in the hope of finding a few spring migrants. Chiffchaffs and Blackcaps are all very well (didn't see either of those!) but it is the rarer migrants that you are really on the look-out for when scouring the countryside on cold March days, and I found a couple of goodies today.
First one was a smart male Stonechat sitting on a hedge by the stream by Park Farm over behind the station. This species gets their name from their call, which sounds very much like 2 stones being tapped together - this one wasn't calling but a nice bird to see nonetheless.
Second good bird was a Red Kite which was flying northwards low over Crowhurst Place. This is a species which we are seeing increasingly more often in the local area, but I imagine that this particular one was just a migrant passing through. I expect everyone knows that this once-common bird was rescued from extinction in England and there are now several dense populations spread out around the country. Problem is that Red Kites are very slow to expand their range, so there are masses of them in certain areas - most famously the Chilterns - but it takes many years for them to spread out to populate equally suitable habitat just down the road, so it will be a long time before they become widespread again. I would be surprised though, if in a few decades, they weren't a regular sight wheeling around the N Downs around here.
I also saw the Little Owl sitting in the same place on the showground, and I did see another one when out walking near Marsh Green the other day.
Not too much of interest in the reserve itself, although a bird flushed from drinking from the pond turned out to be a Reed Bunting, which is always a good sighting, and there were lots of birds in the pond enclosure - mainly Sparrows, Chaffinches and Tits - no Redpolls again, and I suspect that they may have left to start heading N. Again lots of birds in the hedge around the Wildflower Meadow, with Greenfinches again being in evidence, plus a pair of Long-tailed Tits, which have nested in this area for the last two years, and may well do so again.
I hadn't really noticed it before, but the 'catkins' on the Aspen trees seem to be a favoured food-item, and there were several Siskins, Tits and a Great Spotted Woodpecker enjoying the banquet today.
Red Kite Stonechat
Monday 18th March - Ray Baker
Getting a bit fed up with getting soaked when out and about, so thought I'd stick close to home today, and that I'd carry out a detailed survey of birds in the reserve. Despite the fact of having carried out more surveys than I care to remember for organisations like the BTO etc, I don't think I've ever done one of the reserve itself. The idea is to walk around the target area slowly and to cover the ground as completely as possible, and to note and (hopefully) identify every bird seen or heard, but without double-counting. In practice, some individuals are seen too fleetingly to allow a definite id, and so it was today, but here's the list anyway....
Woodpigeon 28
Robin 7
Blackbird 14
Great Tit 7
Blue Tit 23
Crow 5
Song Thrush 3
Mallard 2 (flying over)
Goldfinch 3
Greenfinch 6
Wren 4
Redwing 2
Bullfinch 2
Nuthatch 3
Magpie 14
Chaffinch 11
Skylark 1 (flying over)
Dunnock 6
Jay 2
Collared Dove 3
Jackdaw 5 (flying over)
Fieldfare 1
House Sparrow 2
Herring Gull 1 (flying over)
Starling 2
Goldcrest 2
So.... What does all that tell you.... I suppose the first thing is that there are probably more birds - both in terms of different species, but also individuals - than you might be inclined to think, but also that a single observation session will often fail to find birds which you know to be present.... Today, for example, was probably the first time in more that a dozen visits that I failed to note any Redpolls, and what about the Woodpeckers that were obviously just keeping a low-profile today. Just goes to show, that a number of different surveys are actually required to pick up on all the birds that actually inhabit a given area....
Oh - and I still got soaked!!
Thursday 14th March - Ray Baker
Did a long walk today - down by the stream behind the station, across the fields to Crowhurst and then back via the showground and the reserve. It was quite good actually - started out in the bright sunshine, but the clouds were gathering all the while, so pleased to get done early afternoon without getting rained or snowed upon.
Highlights of the larger walk: Over by Park Farm a group of 4 Yellowhammers sitting in a tree and distant views of 3 Lapwings feeding. A large-ish flock of 100 or so Starlings feeding, together with c50 Fieldfares and a few Redwings, plus a pair of Mistle Thrushes and another single bird further round my walk.
It was a good day for raptors. My attention was caught by a bird sitting on a roof down by the railway line - I half-expected it to be a Kestrel, but it turned out to be a male Sparrowhawk. It sat still while I took a (distant!) photo but, no sooner had I started to walk away, than it zoomed past me at touching distance as it launched a surprise attack on a garden feeder across the road. I also had excellent views of 2 different Kestrels and approx 4 Buzzards. It was quite unusual to see 3 species of raptor, and stretching a point, you could even call it 4, if you include a Little Owl as an honorary bird of prey. This was in the big barn structure in the showground, and I was pleased to see this, as this was my first sighting at what used to be a reliable location until summer 2011, when the regular Little Owl there was driven out by the activity as the marquees etc were erected for the country show.
Now too much over the reserve - a few Redwings feeding in Coldharbour copse and the regular Redpolls by the pond - they really love those Alders and Birches - and large numbers of Woodpigeons, Magpies plus a few Collared Doves, Crows, Jackdaws and a couple of Jays.I did see a pair of Coal Tits just outside of the reserve down by Coldharbour.
There was a group of 4 Greenfinches in the Wildflower Meadow, which is quite an unusual place to find this species - they usually favour the really tall trees around the pond area and Jenner's Field. I was wondering if they were prospecting for nesting sites, as the thick hedges around the Wildflower Garden are a very popular spot for many species - I'll have to read up on what habitat they like for nesting.
Little Owl Kestrel
Saturday 9th March - Ray Baker
Had a little walk around today - mainly to visit the pond to check out the lie of the land ready for tomorrow's pond-dipping. There is a bit more water in the main pond but no more frog-spawn, just the same small clump as yesterday, but again saw quite a few newts as well as various invertebrate life, so we should be able to find something! Mind you, if weather forecast is accurate, not sure how many customers we are likely to get....
Lots of large birds to be seen today - there was a flock of 17 Woodpigeons feeding in the middle of Beacon field, and lots of Magpies around and a few Crows. Down in the pond enclosure there was what looked like a young Jay which was making a peculiar, quiet bill-clapping sound - bit like a low-key version of the sound that you may have heard Storks making in their nests in continental Europe. Jays are renowned for making odd noises - they do a remarkably accurate imitation of a Tawny Owl, and are probably responsible for many of the erroneous day-time 'sightings' of this species - but I have never heard one doing this clapping noise before.... In the case of Storks, they generally make this noise to welcome one bird when it returns to the nest, so maybe this was some sort of call that a young bird was making to its parents....
The Redwings were still in the wildflower meadow, with a male Bullfinch in attendance, and I saw 2 Long-tailed Tits in the dense undergrowth by the Quiet Garden. It is at this time of the year that this species pair up and become much more secretive as they start to build their nests, so maybe they will nest nearby - which will be a different place to either of the locations from last year.
Best sighting came at the end though, when I was checking out the small birds in the orchard, and my eye was taken by a large pale bird flying low overhead - Little Egret! Over the last 15 or so years, this species has been steadily colonising the UK, and in recent years, has started to appear more and more frequently away from its coastal strongholds. Sightings in the Lingfield area are now reasonably frequent, but this is the first time that one has been spotted in the reserve itself, so a good sighting! This is our 3rd new species for 2013 and brings the reserve 'list' up to 74 species, so we are doing well!
Little Egret Long-tailed Tits
Friday 8th March - Ray Baker
In contrast to the sunny walk the other day, I thought I might do a quick circuit today in the steady rain, reasoning (correctly!) that it might be a bit quieter than usual. It actually makes quite a difference if there are fewer dogs and people - lots of birds to be seen and heard today, and it was pleasing to be able to see some of them a bit more out in the open rather than tucked away out of harm's way.
Best sightings today were a decent group of Redwings feeding openly around the perimeter of the wildflower meadow, and a large group of Redpolls in the trees around the gate by the scout hut, but all of the usual suspects were present in decent numbers. Starlings have started to gather around Headland Way, and they will be building their nests under the roof-tiles before too long.
I hadn't really been aware of it, but looks like we've had a decent amount (maybe 1") of rain over the last 24hrs. The usual puddles and little streams have re-established in the various points around the reserve, water is flowing freely from the upper pond into the lower, via the 2 scrapes, and the water level of the main pond looks to have risen a couple of inches since my last visit.
There is a small clump of frog-spawn in the lower scrape and quite a few newts seen coming up for air, although visibility in the ponds is not great at the moment due to blanket weed and also a dog has been in and stirred up all of the clay, so bit difficult to see much. We have our first pond-dipping session on Sunday, but not expecting great things as weather is forecast to turn much colder by then. It will be a valuable exercise though, even if the catch is small....
The bulbs are really coming through now, but a shame that there weren't any insects about today to take advantage of the food on offer. The daffodils are nearly out.
Tuesday 5th March (part II) - Ray Baker
I thought that, as it was such a lovely day, I would do a 2nd walk later on in the morning - nice to get out in the warm sunshine after a bit of a frigid walk round first thing, and I had been thinking to myself that today would be a good day to see my first butterfly of 2013, and so it proved with 3 individuals being seen on a walk to Blindley Heath and back - 2 Small Tortoiseshells and a stunning male Brimstone. Funny thing about Small Tortoiseshells.... most of the time they are very hard to find - I have written previously about how their numbers crashed about 7-8 years ago, having been decimated by a small parasitic fly - but when you do see them, it is often several in quick succession. I have a theory that, counter-intuitively, butterflies may actually do better when we have harsh winters - idea being that the cold weather would kill off their parasites - and this did seem to be being borne out until the wet, cold spring and summer of 2012 came along and created a terrible year for butterflies generally, so it will be interesting to see how 2013 turns out....
I also came back via the reserve and it was good to see the 2 clumps of crocus fully open in the warm sunshine, and even better to see a number of bees feeding on them! The inspiration for planting these bulbs came from an article that I was reading in a bee-keeping magazine, which was stressing the importance of early-season food sources, and the species that we planted were chosen from the ones recommended from this article - so very good to see a plan coming together! There are also a few anemones starting to come into flower, and won't be long before the first of the daffodils.
Not great on the bird-front, although a sighting of 5 Reed Buntings is quite good these days, and there were more birds singing in the sunshine, including Wrens and Goldfinches, plus the flock of Yellowhammers by the farmyard had grown to about a dozen by lunchtime.
In my garden, the first of the frog-spawn has appeared, and I was startled by a Sparrowhawk which zoomed through, right on the tail of some terrified squawking bird.... Gone too fast for me to see what it was, but I think it got away, as I saw the disappointed Sparrowhawk circling around just a few seconds later.
Crocuses (plus bee!) Brimstone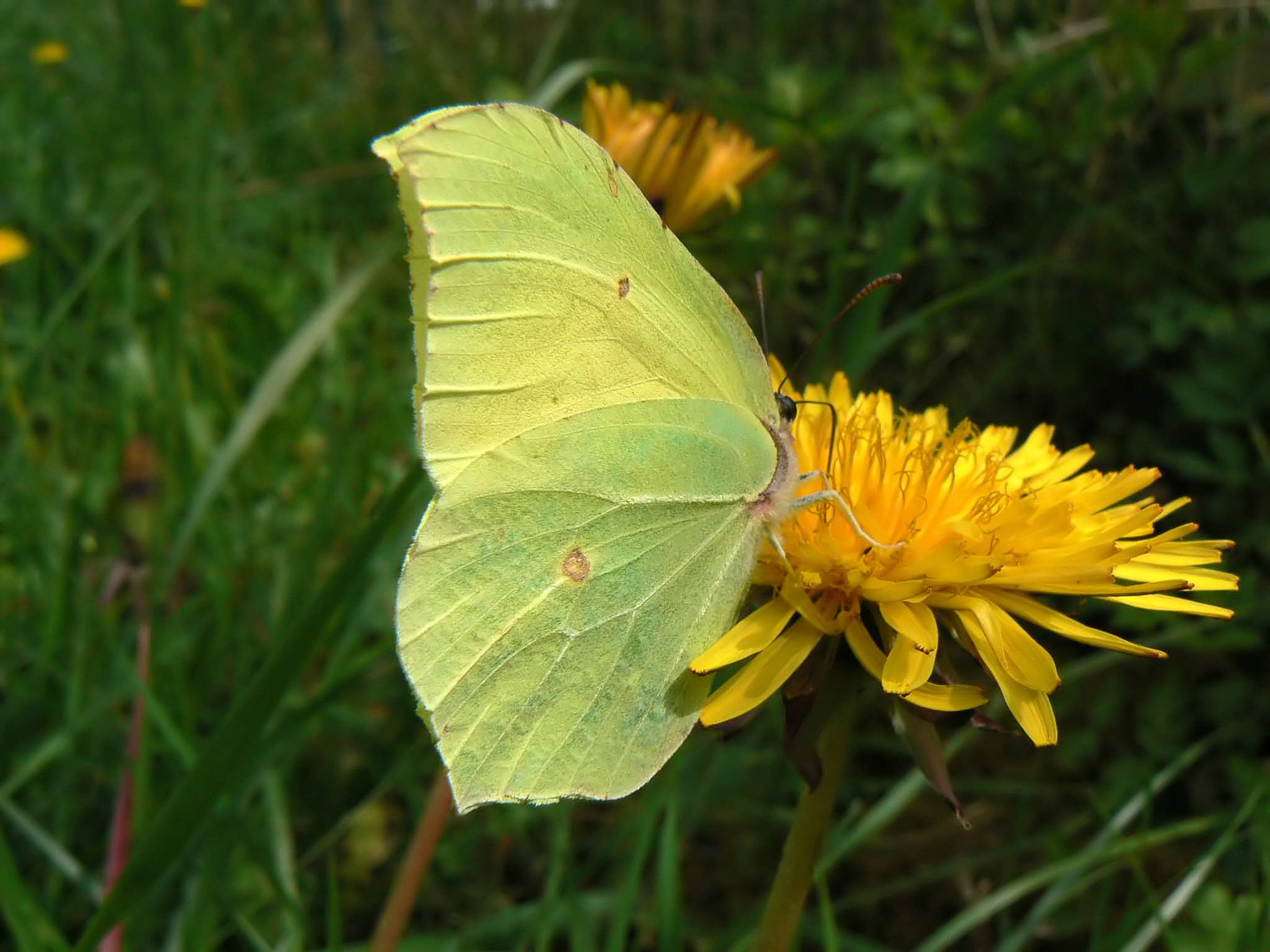 Tuesday 5th March - Ray Baker
I wanted to have a good look round today before it got too busy, so I was out in the fog and frost shortly after sun-up - very atmospheric, and one of those days where bird-watching by ear is the way forward!
Amongst the first birds that I heard were 2 Song Thrushes - one singing from the butterfly garden and one from the trees to the E of Jenner's field - and also a Skylark singing from high above the field to the N of the orchard. It was no surprise that the first birds should be singing from up high - it may have been foggy at ground level, but nice and sunny up there I suspect.
As I made my way around, various other species started to join in, with Blue and Great Tits, Chaffinches, Dunnocks and Robins all singing away (no Wrens heard today!) and I was struck by the number of Blackbirds around the reserve - I wasn't keeping an accurate count, but I would think 20+, which I think is rather too many to all be our 'locals', so the numbers are still being swollen by winter migrants I suspect. Talking of migrants, there were a couple of Fieldfares and a group of Redwings feeding in Coldharbour Copse.
Also in the copse was a large-ish group of Lesser Redpolls, twittering away as they fed on the small buds. One was a stunning male in full breeding plumage, but unfortunately too far away for photographs.
Moving back through the butterfly garden area, I was trying to ascertain how many woodpeckers were around. I was able to find at least one pair (male drumming) but think that there is at least a chance of there being 2 pairs, as I saw a 2nd female prospecting the nesting box in the orchard that had been used by this species last year. We are not short of GSWs in the area, as I saw a 3rd pair just 200m or so outside the reserve.
In the orchard, there was also a pair of Bullfinches feeding on fruit tree buds, and a group of Siskins were down on the gravel path. I can only think that these were eating grit, which some seed-eating species do in an effort to grind up their food to aid digestion - they weren't drinking from a puddle, so that's the only other thing that I can think of. There were also 2 Nuthatches in the large chestnut tree where they nested last year.
The main purpose for me getting out so early was to have a good look around to see if I could find any Yellowhammers or Linnets before it got too busy. Sadly, I came up empty in both cases - I think Linnets are now gone from the reserve, but I did see the small group of Yellowhammers down by the farmyard to the N of the reserve, although the acid test will be whether this winter flock actually stays in the area once the breeding season gets underway.
Won't be long now before the first of the summer migrants start to appear, with Chiffchaffs and Blackcaps usually being the first of the common species, but there is always the possibility of rarer birds, such as Wheatears and Stonechats, so worth keeping your eyes open.
In more general news: water level in the main pond is now quite low, being about 1/2metre down on the high water mark from earlier in the winter, and blanket weed continues to bloom. The gorse patches that we planted in 2011 are doing well - lots of flower buds and will be big enough to host breeding birds by next year I would think.... so that's something for us to remember - 3 years from planting to nesting!
Skylark Bullfinch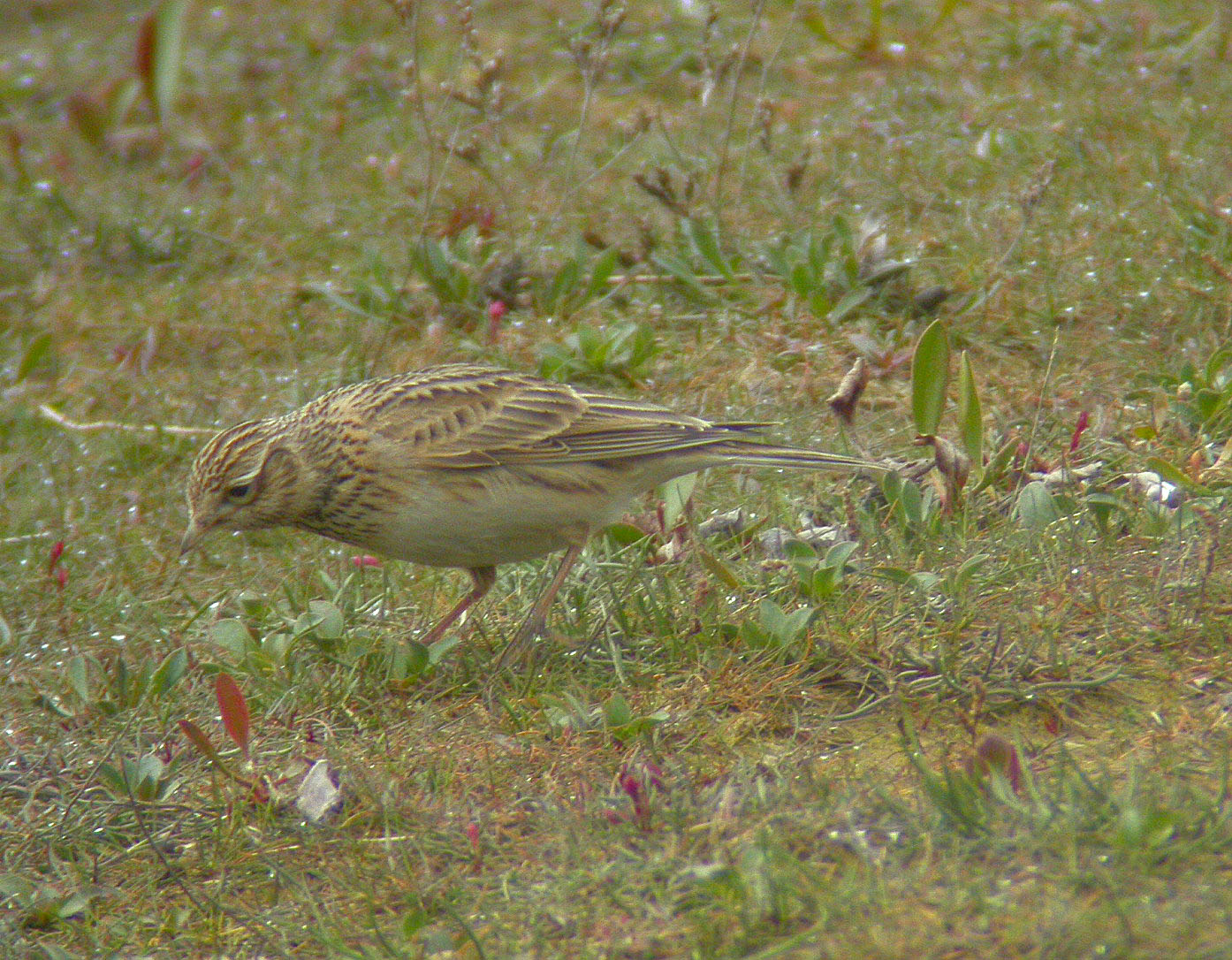 Tuesday 26th February - Ray Baker
Pretty horrible weather today - cold, dark and drizzly - but I was carrying out one of the BTO's thrush surveys, so walked around the reserve whilst on the route.
Not a great deal to be seen it has to be said - I think my visit coincided with peak canine activity - but I was surprised to see a flock of 8 Fieldfares flushed up from the centre of Bloomer's field. It is not unusual to see Fieldfares in the reserve, but they are usually either just perched up on tall trees, feeding on berries (if we have any!) or sometimes feeding in the leaf-litter in fairly tucked-away areas. Feeding openly in the middle of fields is standard Fieldfare activity, but they are seldom to be seen doing it in such small, busy fields as ours. I wonder if this means that they are becoming desperate for food - if so, they will probably be leaving us shortly to head back up north.
No sign of any activity around the pond area for once - quite a surprise, as can usually find some birds around there. Water levels are comparatively low - but the water in the main pond is quite clear now (apart from the burgeoning blanket-weed, that is!) - clear enough to see that there doesn't seem to be much sign of any frog or newt activity as of yet - too cold I expect.
When working in the reserve on Sunday I saw and interesting, but ultimately frustrating, sight - a Black-headed Gull being lazily chased by a much larger gull. Now this 2nd gull was much larger ie larger than a Herring Gull type, so the only candidates that I could come up with would be either a Greater Black-backed Gull or possibly even a Great Skua - these typically being 2 species that would harrass a smaller gull to try to steal a meal. Unfortunately, I had not got my BINs with me, and the view was poor of the birds high up in a milky sky, so impossible to pick out any features that would aid identification. Very annoying, as either one of these species would be new to the reserve, but unfortunately I was not able to confirm a definite id.
Monday 18th February - Ray Baker
I took a walk around the reserve today in the warm spring sunshine - several species of tree and shrub have bursting buds now and the first of our bulbs (species crocus) are coming through in the orchard, so spring is definitely in the air! There are also quite a few Celendines in flower along the little stream, which make a cheerful sight. The main purpose of our bulb-planting was to provide early season food for flying insects, which seem very thin on the ground at the moment, although I did see a couple of bumble bees in my garden over the weekend.
Quite a few bird species about, with Dunnocks, Greenfinch, Robin and Wren all singing away, plus Chaffinches have now started up their 'fast-bowler's' song.... One species that I haven't been hearing so much this year is Song Thrush. They are still around (one wakes me up every morning!) but I have yet to hear more than one at a time this year, whereas last year I sometimes could hear 3 or 4 different males all singing from the reserve or immediate area.
Not one, but two Greater Spotted Woodpeckers drumming in the orchard area. From what I understand, it is the female that drums first to attract a male, who then takes over once a pair and territory have been established. Unfortunately, I couldn't see either today, so don't know what sex they were, but not sure how likely it would be to have 2 pairs in the reserve.
Several Redwings feeding in the leaf litter under the trees in the orchard and a rather larger group (plus 1 Fieldfare) in Coldharbour Copse.
I had a look at the pond and was a bit surprised to only see one Smooth Newt coming up for air - I had thought that the warmer weather of the last few days might have sent quite a few back to the water - maybe the frosty nights are keeping them on dry land. I was also on the look out for breeding adult frogs in the scrapes - they are present in my garden pond - but no joy. I hope that they come back again this year. Quite a lot of blanket weed in the main pond - not quite sure what we have done to deserve that, but could develop into a problem as the season progresses and the water warms up.
Celandine Greater Spotted Woodpecker
Wednesday 13th February - Ray Baker
I was doing a longer walk today, taking in the racecourse and golf course area, and did a circuit of the reserve on the homeward leg and there were a few things of interest.
In the reserve there was again a large-ish mixed group of small birds feeding in the NE corner of Jenner's Field, and I heard my first Wrens singing - quite a surprise that it had taken me so long to hear this, as these are usually enthusiastic singers and amongst the first to herald the arrival of spring. There were also 3 Greenfinches singing from the top of the tall trees by the play-area, and a further 11 feeding in and around the pond area. Funnily enough, I was recently reading about how Greenfinches like to nest communally, and it looks like we have a thriving group based around that corner of the reserve. The mystery is why are they only seen in the spring-time? - I guess they are either keeping their heads down (not very likely that they could elude me that successfully!) or possibly they only move back into this area during the breeding season - a bit like Song Thrushes.
Talking of thrushes, there was also a nicely symmetrical group feeding in Bloomers Field - comprising 2 Blackbirds, 2 Redwings and 2 Fieldfares, and also a small group of Redpolls feeding on the alders by the pond area - these small birds do love an alder!
Not terribly interesting on my wider walk, just about best sighting being a large mixed group of about 50+ Redwings and Fieldfares feeding on the fairway. The woods along the back of the race-track are an excellent spot for 'crests, and I always give them a good look to see if I can find a Firecrest. As usual, no joy today but will keep looking.
There was also a Mistle Thrush feeding in the area of parkland which is used as an overflow car-park on popular race-days - I have seen them there before, and I expect that there was a 2nd bird lurking somewhere nearby.
My flock of Siskins stood at 72 the other day - and I imagine that this is an underestimate, as it is very difficult to be sure that you have counted them all - probably a more accurate way is to wait until they are all flying around together and estimate the total flock size.... Wouldn't be surprised if the correct number was 100+!
Siskin Mistle Thrush
Sunday 10th February - Ray Baker
I had a slow walk around the reserve in the light but steady rain, and there was quite a bit to be seen - over and above the usual numbers of Tits, Blackbirds, Wood Pigeons etc that is.....
Quite a few birds in the Wildflower Meadow, where they favour the larger areas of scrub and bushes in the corners, and today there were a Nuthatch, Wren, Greater Spotted Woodpecker, Chaffinches, a flock of about half a dozen Redpolls and a stunning male Bullfinch - when I passed through on my way home 90mins or so later, a 2nd Bullfinch was visible, so I expect it had just been lurking somewhere quiet initially. For such a showy bird, they can be surprisingly unobtrusive.
I expected there to be some birds feeding in the leaf-litter in Coldharbour Copse, but nothing at all today - probably someone had passed through and flushed them all away, but I did notice several thrushes passing by overhead.... These can be quite difficult to id in flight with a poor view - it helps if they call, which these didn't - but I rather fancy they were both Fieldfares and Redwings. A decent flock of a couple of dozen Fieldfares did go over later on (calling!) so there are still some in the area.
Not too much down by the pond, except some tits and House Sparrows but there were 3 Greenfinches sitting at the top of the tall trees just up by the bridge over the little stream....ÂÂ Talking of which, looks like we might get a decent crop of Primroses and Primulas this year.
I then walked around the periphery of Jenner's Field (don't do this very often) and was pleased to see a large mixed flock of birds in the rough area of bramble, trees and scrub in the NE corner - I guess this might prove popular, as it is probably less disturbed than most of the reserve - and the flock comprised:- Blue and Great Tits, Chaffinch, Goldfinch and 4 Greenfinches (may have been the same ones from earlier) plus quite a few Siskins and Redpolls, and best of all, a Coal Tit.... This was an unusually disparate grouping.....
I went this route to give the area a good look-over for Wagtails (none!) and also the mystery bird that I mentioned the other day (no sign)
Many of the bulbs that we planted will be coming into flower shortly, and looks like the daffodils and crocuses will be leading the way. Mind you - I haven't been noticing very many flying insects around that might like to take advantage of them!
Wren Redpoll
Thursday 7th February - Ray Baker
I was carrying out a survey of Thrushes today on behalf of the BTO, and my route takes in the reserve, so I thought I'd kill 2 birds with one stone (as it were...obviously killing birds with any number of stones is bad!)
There was a Fieldfare feeding underneath the oak trees in the middle of Beacon Field - one of several that I saw throughout my extended walk which, along with quite a few Redwings, shows that the exotic winter thrushes are still with us - it is interesting to see that they are all feeding on the ground now, as the soil thawing out after the snow, and a bit warmer weather (although not so much these last few days) has obviously started a bit of invertebrate activity, and this is what they are feeding on. The leaf-litter in Coldharbour Copse is quite a popular spot, and a cautious approach will usually lead to sightings of Blackbirds, Redwings and sometimes Song Thrushes along with the usual array of tits and finches.
Just outside of the reserve, I disturbed a Grey Wagtail - which was nice to see, but slightly irritating inasmuch as this is the 2nd time in the last few weeks that I have seen this species within 200m of the reserve, but we are yet to record it on-site - it needs to move over a bit!
There were also a pair of courting Coal Tits in the same place, which was nice to see.
In the area of the manure heap just to the N of the reserve, there was again a decent group of about 6 Yellowhammers - this time just perched up in the hedge rather than feeding - and also 2 Meadow Pipits sitting in the wires at the same spot.
The ponds are iced over. I wonder what happens to the (air-breathing) newts that have started to move back into the water?
In 'annex' news, my flock of Siskins has grown to about 40 now - which is quite a spectacular sight, as they squabble for space on the bushes and feeders.... Only drawback is that they can empty my sunflower heart feeder in about 2hrs!!
I met up with a group of dog-walkers and they were telling me about a mysterious bird that they had seen perched up on the fence at the top end of Jenner's field - bit Robin-like in build (but bigger) with a pure white head and a small bill.... Got me stumped - the 2 possibilities that spring to mind are something with aberrant plumage, or some sort of exotic vagrant that has no business being here.... Need to keep eyes peeled to get a sighting.
Tuesday 29th January - Ray Baker
I didn't go around the reserve today, but instead did a longer walk taking in the stream area behind the station, through to Crowhurst, the showground and then home via Blindley Heath common, and it was not without interest....or mud!
Not huge numbers or variety of birds about but I did note 2 large flocks of Fieldfares - I think these have possibly been driven back from the SW, as they seem to have had the worst of the winter weather down there, a couple of single Green Woodpeckers and a pair of Mistle Thrushes. I also had my fifth or sixth sighting of Cormorants in the area over the last few weeks, so it appears that we are on the cusp of being colonised by this species, which is now gradually moving inland where they seem to find commercially stocked fishing lakes much to their liking - I think 'our' ones seem to be centred around the fishing lake on Tandridge Lane. I suppose that we should love all birds equally, but have to say that I find it a bit difficult to warm to Cormorants - if we have to be colonised by large, fish-eating birds, I'd probably rather it was Great White Egrets and Purple Herons!
There was also an enormous flock of gulls just loafing around on the showground - probably 1,000+ which is quite a few for this area. From from I could see (not easy due to hedges) they were mainly Black-headed, with a few dozen Common Gulls mixed in....
Now, despite their names, Common Gulls aren't all that common - and in fact, are yet to be recorded on the reserve.... They are often to be seen in small numbers in the winter months, and associate with Black-headed Gulls and favour large areas of short grass, such as school sports fields and recreation grounds - they are sometimes seen at the large rec in Oxted and also on Godstone Common.... The only place that we are likely to get them on the reserve is probably Jenner's field, but for some reason the gulls don't seem to favour this - probably a bit small for the amount of human disturbance.
Anyway, liking gulls is a bit of a stretch as they don't have too many attractive features (I do like a gull myself!) but if there is one species that might soften the heart it is probably the Common Gull, with it's attractive soft grey mantle plumage, pure white breast, grey-green legs and yellowish bill. It is a bit bigger than the Black-headed Gull but much smaller than the larger gulls, such as Lesser Black-backed or Herring Gull, which has similar colouration, and an excellent field-mark for the Common Gull is the jet-black with white-tips 'mirrors' on the outer wings.
Another feature of the Common Gull is its quite dainty build and rather kindly expression - which is quite a contrast with the feral expression of many gull species, such as the Greater Black-backed Gull with its basilisk stare, being particularly scary!
Common Gull Black - headed Gull
Saturday 26th January - John Madden
This morning I walked the dogs around the fields to the North West of the Reserves. It was wonderful in the sunshine after all the miserable weather lately. Like Ray I saw at least six yellowhammers in a nearby farm yard where they were feeding on the bedding heaps. Most of them were cock birds. It seems this is a reliable site for them as I have regularly seen yellowhammers in this area this Winter. I then proceeded North across Lingfield Common Road. In the second horse paddock the dogs flushed a woodcock which flew off Eastwards. This is my second sighting locally. The first was in my back garden in Crowhurst a few years ago. I presume its presence is something to do with the cold weather. I then returned to the reserves and bumped into more people who have seen waxwings in their gardens in Lingfield recently. It seems I am one of the few people that has not seen them.
Friday 25th January - Ray Baker
Went around the reserve mid-morning and, after a slow start, it turned out to actually be quite birdy.
If you could see beyond the remains of the snow, and the fact that it was only a couple of degrees above freezing, the first signs of spring were in the air, with Dunnocks and Robins singing away lustily, a Greater Spotted Woodpecker (couldn't see it, but a female if the books on drumming habits of GSW are to be believed) drumming away near the butterfly garden, and Nuthatches noisily reclaiming their territories in the orchard and prospecting for nesting locations. There was also a few flowers of Lesser Celandine in the ditch between Jenner's and Beacon fields.
There were a lot of Siskins about. First group was in the trees bordering the reserve at the top of the orchard, second group near the bridge over the stream, and a third group near Coldharbour Copse. There was a mixed group of Fieldfares, Redwings, Starlings and 2 Song Thrushes feeding near the bottom of Jenner's field - these type of species will now become less dependent upon fruit and seeds now that the ground has started to thaw out, and will go back to hunting invertebrates.
The water in the stream was running quite freely, and lots of birds were coming down to drink. This can be a useful tip for bird-spotting, as particularly seed-eating birds need to drink frequently to make up for the lack of water in their diet, and some of my best sightings of birds like Crossbills have been gained by staking out a likely looking puddle! Siskins, Tits and Redpolls were all drinking avidly today and a Blackbird was having a nice bath.
For a change, nothing much by the pond - except for the soft calls of two Bullfinches in the bushes - but a very nice flock of Redwings, Chaffinches and Redpolls were feeding in amongst the leaf-litter in Coldharbour Copse. I spent some considerable time looking through these, as this is exactly the sort of scenario that might yield a Brambling, but no great hopes as there are very few of these in the UK this year, and no signs today. In another sign of spring though, one or two of the Redpolls were very colourful as they start to develop their breeding plumage.
in 'nearby' news, there is a large manure heap in the farmyard just to the N of the reserve, and this has been proving very attractive to the birds, as much of the rest of the land has been covered with snow - and so it proved today, with 6 Yellowhammers, 2 Meadow Pipits, Blackbirds, Dunnocks and Robins all feeding from it. The other day, I also saw 2 Reed Buntings in the same area.
Don't forget - RSPB's Big Garden Birdwatch this weekend!!
Siskin Redpoll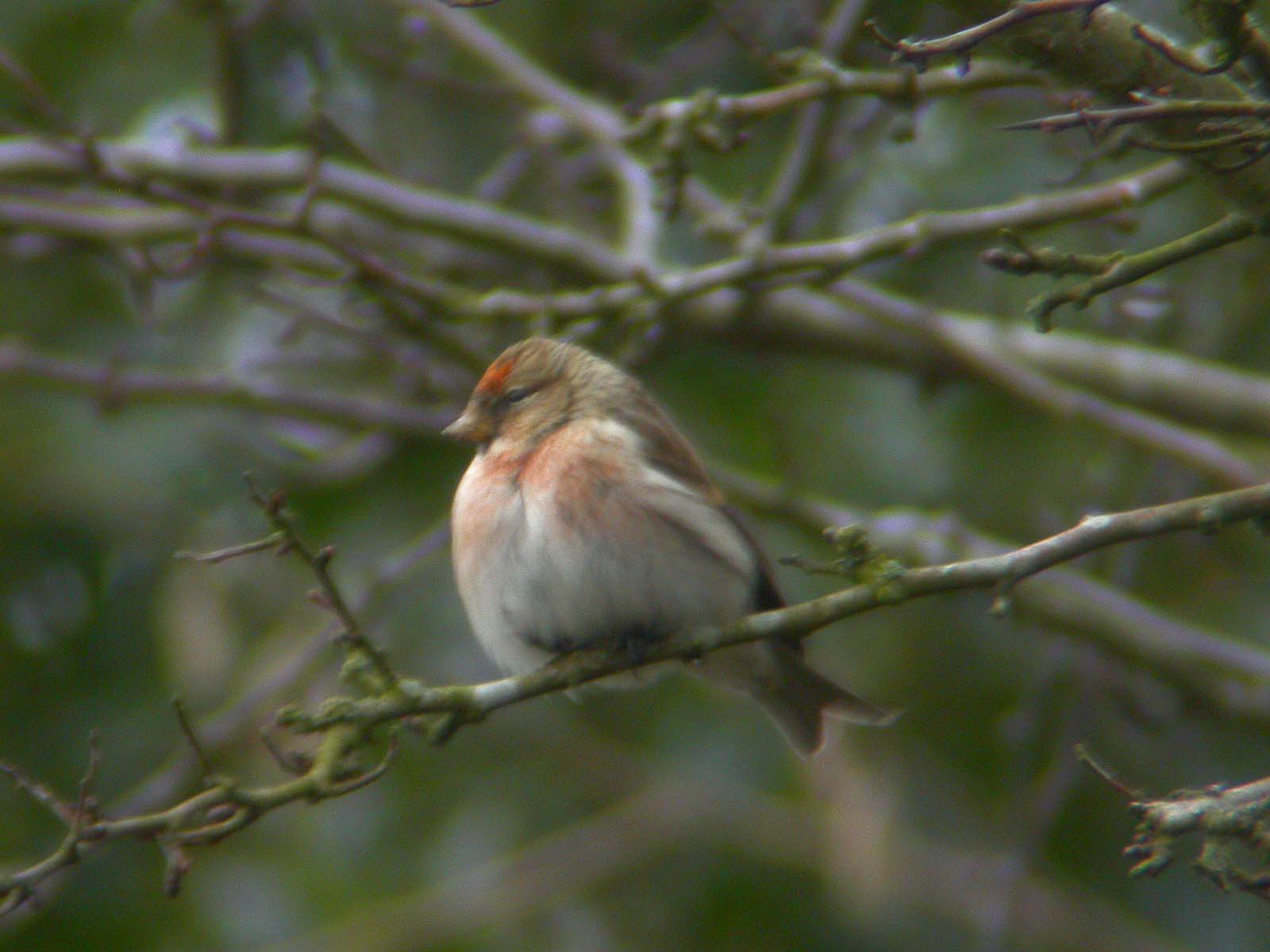 Saturday 19th January - Ray Baker
It was a case of 'the call of the Waxwing', so I popped over for another look - this time there was only a single bird present, but it was quite obliging, and faithfully returned to eating berries each time a dog-walker flushed it away. Still not much good for photography in gloomy conditions, and I only had my point-and-shoot with me, but this photo is a bit better than the ones from the other day, although still not as good as the ones I took on a sunny day in Norfolk a few years ago!
There were also 2 Fieldfares keeping it company on the berry bushes and a small group of Lesser redpolls nearby.
As I was walking back home, I saw a group of about 15 Lapwings flying over down towards Lingfield Common Road. This is the 3rd day in a row that I have seen plovers either directly over, or very near to the reserve (having seen precisely zero in the previous 3 years!) so I can't help thinking that the snow down nearer the coast is causing them to move about to areas that they normally don't frequent.
In other news.... I had told a birding pal of mine about the Waxwings, and whilst watching the one today, he noted a Snipe flying over. Now, this species are in the local area - I have seen them myself down by Crowhurst sewage works and also at Blindley Heath, but this is the first time that they have been seen over the reserve, so a new 'tick' for us, and the 2nd new bird in just a couple of days!
In 'annex' news - no sign of the Reed Buntings in my garden, and in other local news, there is a Bittern at Hedgecourt - this being a regular bird that is seen most years.... I first saw it in 2006.
As a matter of interest, I have also updated all of the reserve 'lists' on the Surveys page (still awaiting final breeding birds survey data) and also written a review of the year under 'Latest News'.
Addendum: I had a quick walk around on Sunday - no Waxwings, but a larger flock of about 12 Redpolls feeding voraciously on the cones on alder trees in Derek Slade Spinney - if we are ever looking to plant more trees, alders give very good value for wildlife. Following on from my comments yesterday, I also saw another flock on 8 Lapwings flying over, and a similar-sized flock of some other sort of waders. Unfortunately, by the time I got onto these, they were too far away in the snowy gloom for a definitive id, but they were medium-sized, lacking features on a pale underside, so something like Golden Plover is probably likely, but I wouldn't be able to say for sure after such a poor sighting. What is definitely the case though, is that it is worth keeping your eyes peeled at the moment - all sorts of birds are on the move!!
Snipe Waxwing
Friday 18th January - Ray Baker
Popped over to the reserve this afternoon to see what might be about in the moderate snow.... It was quite lively actually, with several quite good species being noted, including Redwing, 2 Fieldfares, Green and Greater Spotted Woodpeckers, Jay and both a Stock Dove and a flock of 6 Lapwings flying over. This latter species is already on the reserve list, but it's an old record, so no idea what sort of a sighting it was - although highly likely to have been like this one - a flyover. No Waxwings noted today sadly.
Now that the weather is getting a bit harsher, the small birds will be forming up into large feeding-flocks and (those that don't take to bird-tables) heading for the woods. It can be quite disconcerting to go bird-watching in winter, as you can go ages without seeing hardly anything, and then suddenly you can be surrounded by a mass of birds as one of these feeding flocks passes through. So it happened today with a flock of about 40 birds making their way down the mature trees in the hedge-line at the top of the Community Orchard. I gave this flock a careful 'grilling', as they can often contain some quite good birds tagging along at the end, but all I could find today was Blue and Great Tits, Chaffinches and Goldfinches.
I'm thinking of attaching my garden as an unofficial 'annex' to the reserve - well, it is only 20m or so outside the reserve boundary - as that would have increased the bird-interest considerably! Today I have had 11 Blackbirds squabbling on my lawn, Fieldfare, Song Thrush, as well as the usual Tits, Dunnocks, Robins, Doves, Pigeons, Starlings and Sparrows. The feeders have been taken over by a mixed flock of about a dozen Siskins and 6-8 Goldfinches, which are emptying them twice a day, but best sighting of all was 3 Reed Buntings which have taken up residence on my bird-table - a new garden 'tick'!
The RSPB's Big Garden Birdwatch is happening next weekend, and that's normally the signal for all the birds to desert your garden.....
Wednesday 16th January - Ray Baker
They do say 'seek and ye shall find' - well, I have been seeking and I did eventually find - in this case Waxwings!! Trying to think like a Waxwing, I had been of the opinion that the last remaining berries on the hedge down by the pond must be irresistible - given that there are so few berries out in the general countryside - so I have been checking them out on a regular basis with Waxwings very much in mind. This is a species that is always a thrill to see, as they are quite rare winter visitors to the UK and are extremely handsome. The number of Waxwings visiting the UK varies from year to year, and this year is a good one, so an excellent opportunity to see them locally, and to add this species to our reserve 'list'.
There wasn't too much else about on the reserve, although I did see a couple of Bullfinches by the pond and also a very large and noisy roost of Starlings just outside the reserve by the fire station.
It was a bit of a red-letter day actually, as I had also seen some good birds when on my wider walk - a flock of 17 Golden Plover and 8 Lapwings on a soggy frozen field down by the station. There are also a very good sighting for this area - driven in from the east coast by the weather I'm thinking. Sadly we are unlikely to ever see either of these species on the reserve, as (unlike Waxwings) they are pretty intolerant of human presence.
Waxwing Lapwing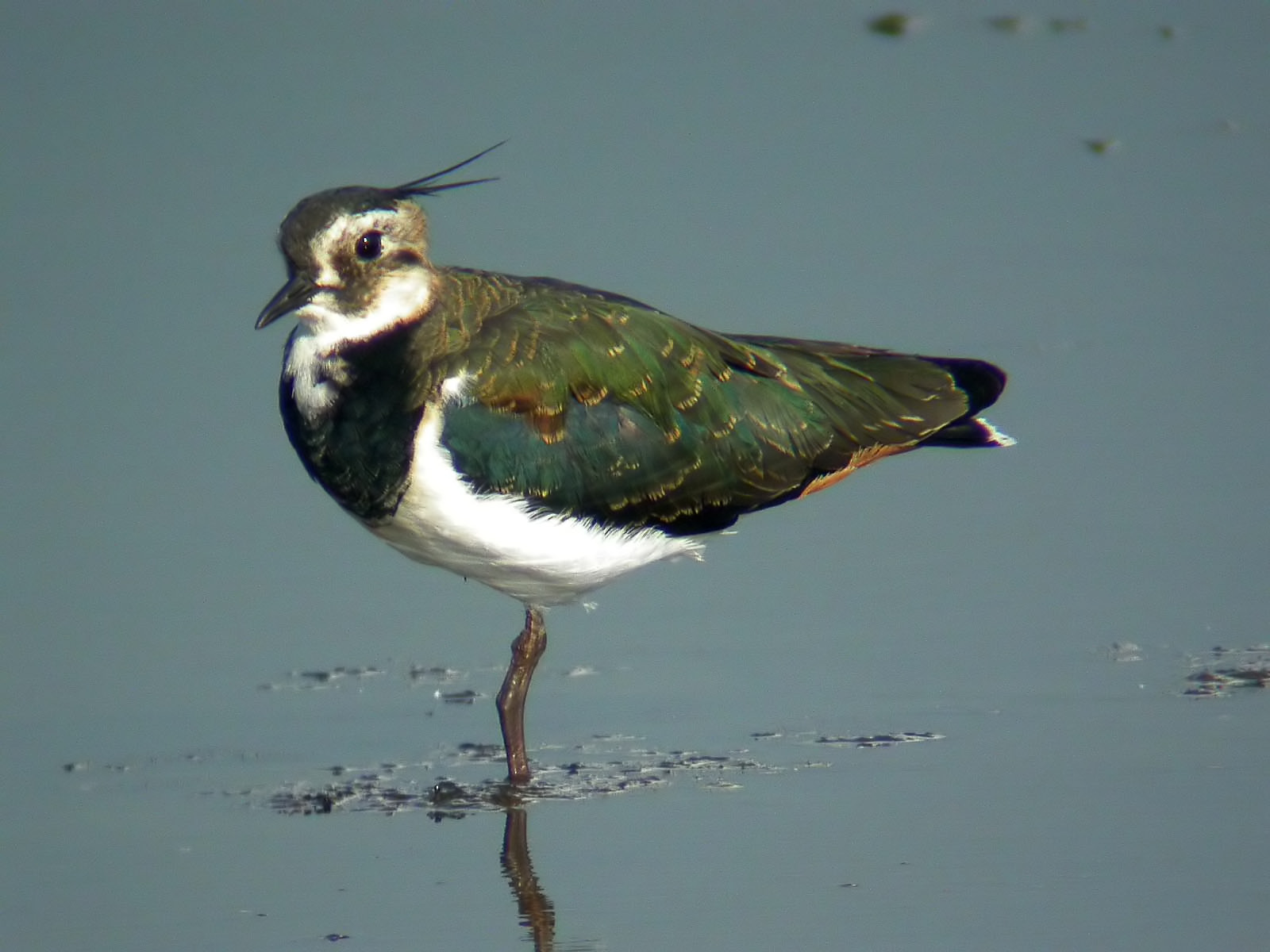 Golden Plover Waxwing
Tuesday 8th January 2013 - Ray Baker

A combination of poor health, minced pies and a family holiday had kept me out of the reserve for several weeks, so I was quite looking forward to a walk round today in mild but overcast conditions.
In the event, it wasn't terribly exciting in terms of birds seen, with just a few of the more common species - Robins, Blue and Great Tits, Blackbirds, Wood Pigeons etc to be seen. There was a very well marked fresh young Jay feeding in Beacon Field, but the most interesting sighting was a flock of about 100 or so Starlings perched up on tree tops just outside the reserve down by Coldharbour.
I was wondering whether the mild weather might fool some creatures into thinking that Spring had arrived, and so it proved with several Smooth Newts having decided to resume life back in the ponds and also quite a few active Water Boatmen swimming around. I thought that the ponds didn't look that great actually, as there is quite a bit of blanket-weed starting to sprout - a bit early in the year... how bad will it be when the weather really heats up! - and also the water in the upper pond looked very murky, whereas I would expect it to be gin-clear at this time of the year....
I was also quite surprised that the water level in the main pond has dropped by about 25cm since my last visit of a few weeks ago - obviously hasn't been raining as much as I thought.
Many of the bulbs that we planted in the autumn are now starting to show through. I do hope that they put on a decent show and provide early food for the insects, but they look a bit sorry for themselves so far, with germination being quite patchy, plus quite a few appear to have been trampled - probably dog activity rather than any deliberate vandalism I should think. Fingers crossed that they prove worthwhile come the spring-time.