Autumn
Early September bird news. A small flock of 6 Sand Martins seen feeding on insects around the top of the mature trees in the WFM/allotment area. This species has never been recorded on the reserve before, and brings our 'list' up to 75 species.
The photograph below is actually of a Crag Martin - sadly I've never managed to get a photo of a Sand Martin, and the 2 species are very similar!
Summer
Sightings of unusual butterflies continued during the course of late-summer, with Purple Hairstreak and Clouded Yellow being recorded several times, but best of all, several sightings of Brown Hairstreaks, thus confirming that we have a breeding colony on the reserve of the UK's least-recorded butterfly! In a very nearby garden, Silver-washed Fritillary was also seen, but this is yet to be recorded on the reserve.
There have been a couple of sightings of Purple Emperor butterflies over the years, and in late July, 2 males were seen disputing territory high in the tree-tops over the Quiet Garden. 2013 has reportedly been a good year for this rare and difficult to see species, with speculation linking this to the very poor breeding year for Blue Tits, which bred much later and in smaller numbers than usual due to the cold, wet Spring, and this enabling more of the Purple Emperor caterpillars to survive to become imagos. A very good and unusual sighting for the nature reserve anyway.
In another very unusual sighting. An even rarer dragonfly - the Golden Ringed Dragonfly - was seen patrolling the very end of Headland Way over a 2-day period, and even though it was never actually seen on the reserve, it is extremely unlikely that it didn't travel the 10m or so to get there at some stage, so it is reasonable to be able to count it as a 'sighting'. After a bit of research, it came to light that this species was also noted in exactly the same place in summer 2006, which is very odd, as it is quite a rare insect, and more usually seen near mountain streams in moor and heathland, so quite what it was doing in our gentle rural countryside is something of a mystery.
Purple Emperor (photo courtesy Pete Eeles) Golden Ringed Dragonfly
Sunday 28th April - Ray Baker
Didn't specifically go around the reserve, but over for the work-party, so did see a few bits and bobs....Talking of work-parties - extremely disappointed to see that no new people had turned up to help - just the same few faces as ever. It really is very dispiriting when all of the work involved in running the reserve is left to so few to undertake.
At the risk of upsetting any orphidiophobics, we have started finding Grass Snakes under the reptile mats, and the one down by the pond yielded 3 medium-sized individuals today. I would guess that, just judging by size, these would be young from probably 2010 or 2011. As there were 2 of us, I was able to get some photographs for once....
A Blackcap was keeping me company down by the pond - singing away for the whole of the 2hrs that I was there... My main task today was to build a hibernaculum - a kind of bug-hotel - using some old bits of bamboo tubing that were now surplus to requirements in my own garden. The idea of this is to create a network of small spaces for bees and other creatures to use as shelter - or at least it will, as long as the vandals don't destroy it!!
Had a red-letter day when out and about in the local area on Friday, seeing lots of Yellowhammers and Linnets but also 2 good rarities - a Little Ringed Plover and also a Whinchat. This latter is more often seen as an autumn returning migrant, when sometimes family groups including this year's youngsters are seen as they return down south in September, but the spring-time adults are very fine-looking in their breeding plumage.
The thing about Little Ringed Plovers is that they are quite similar to another UK bird, the Ringed Plover... The easiest way to tell them apart, is that the Little Ringed Plover has a little ring - in this case a yellow one around its eye.... I've attached photos of both species so that you can see for yourself!
Little Ringed Plover (note eye-ring!) Ringed Plover (no ring)
Whinchat Grass Snakes
Thursday 25th April - Ray Baker
Did a little stroll around the reserve in the warm afternoon sunshine - the shorts had even come out!!
Most notable thing bird-wise was the number of Blackcaps singing away - bit difficult to get exact numbers, as I did a circular walk and birds may have moved slightlyÂÂ and therefore might be double-counted, but I reckon somewhere in the range of 4-6 singing males, which is a good count.... I was out on Wednesday at Blindley Heath and had noted that there suddenly seemed to be lots of Blackcaps present, which I felt was a bit odd.... The arrival of migrant species from the south is called 'a fall' and it is not unusual to get significant falls of migrants when the weather conditions are good - typically warm winds from the south (which helps them to make northward progress) followed by wet, cloudy or foggy weather overnight, which tends to 'ground' them when they hit land.... Birds don't much like flying long distances in horrible weather...
ANYWAY.... it just struck me that last week in April was a bit late to be getting a major fall of a species that would more properly have arrived 4-6 weeks earlier, but it does appear that that is exactly what has happened, so (not for the first time!!) illustrating just what a dodgy business it can be trying to speculate too much about bird behaviour!
As an aside, I was reading the other day about the return migration progress of the satellite-tagged Cuckoos that the BTO have been monitoring.... These birds were tagged in the UK last summer, and conventional wisdom would have it that most birds are very site-faithful and would return to the same vicinity this year... Only snag is that the birds obviously haven't read the required texts, since none of them have made it back here yet, and at least one has decided to abandon Norfolk in favour of Belgium!!
I have been seeing the first significant numbers of butterflies this week, and saw the first 2 species in the reserve this week - being a Peacock and a small white butterfly, which I would suspect was either a Small White or possibly Green-veined White, but it didn't hang around to be identified.... These species are to be added to Red Admiral, Comma and first male Orange Tip that I had seen in my garden earlier on...
Bit soon for the fish in the pond to be breeding, but they seem to get more numerous with every visit, and today I saw 3 goldfish and a shoal of 5 of what looked like either Roach of Rudd.... I imagine that there is now very little chance of these fish failing to breed, so we can look forward to much larger numbers of fish in the pond in the years to come, with a subsequent disastrous effect on the rest of the wildlife. Given that it a criminal offense to harm or disturb our flagship species, the Great Crested Newt, I wonder whether the law has actually been broken by whoever did this?
LOTS of blanket weed too!!
I have decided to carry out regular weekly surveys of the dragonflies and damselflies in the reserve (British Dragonfly Society have some good recording software!) and today was my first visit of the year.... and of course, nothing to be seen.
Peacock (male) Orange Tip
Tuesday 23rd April - Ray Baker
Over at the reserve very early this morning, and lots of UK native birds singing well - the Nuthatches in the orchard area being particularly vocal.
Things seem to be slowly improving on the migrant-front - today I saw 3 or 4 singing male Blackcaps and 2 of them had females in attendance, so I reckon that is about 'normal' numbers for the reserve - assuming that they all become resident here that is, and aren't just passing through. Chiffchaffs were maybe a little down, but they will quite often become a bit more reclusive once they have paired up and established a territory - with their very noticable 'chiff-chaff' song being replaced by the softer 'hweeet' contact call - and so it was today.... It certainly is the case that this species would normally be in full breeding-mode by now, but many have arrived 3-4 weeks late into the country, so I don't really know what will happen this year.
No sign of any later migrants though ie Whitethroats, Garden Warblers etc
In an interesting aside, I have had a male Blackcap on my feeders for the last 3 days, and this is the first time that I have ever had a summering Blackcap in my garden - over-wintering ones would famously stake out bird-feeders to help them get through the winter, but maybe this is a sign that natural food is proving hard to come by this year.....
I was surprised (but in a good way!) that we had breeding Treecreepers using one of our nestboxes last year, as I had only actually seen the species in the reserve a handful of times, and I would have expected to have been able to take note of a full cycle of breeding activity. I had determined to be more vigilant this year, and so was pleased to be able to see a Treecreeper in the self-same tree that they nested in last year - fingers crossed for this year!
I struck me today that I haven't seen a Bullfinch for a couple of months - hope this is not significant, as they are usually reliable around the reserve and are one of our most attractive species...
In mammal news, I was standing quietly in the allotment car-park (counting Blackcaps!) when a fox ambled casually out of the hedge. Obviously not expecting to see anyone, did a cartoon-like double-take and disappeared sharp-ish! I also saw a rabbit down by Coldharbour.... We're not short of rabbits in the area, but don't often see them on the reserve.
In 'Jaws' news - I am informed that there are at least TWO goldfish in the pond!! This is obviously bad, as goldfish can breed like rabbits!!
Talking of the pond... The first 2 lots of frog-spawn hatched out a couple of weeks ago, and I am unable to see any free-swimming tadpoles, so looks like they've all met an unhappy end. There is one more lot of spawn still to hatch though....
Not sure if it's natural causes or playful high-spirits, but many of our new daffodils are now minus their flower-heads!!
Saturday 20th April - Ray Baker
What a lovely morning it was (although probably more reminiscent of an unseasonably warm February day that late April) and there was much shouting and swearing at disobedient dogs and bellowing into mobile phones going on by way of celebration. Nothing whatsoever of interest in the reserve, but luckily I'd been up since crack of dawn and was just passing through following a 3hr walk around the local area.... and I had seen plenty elsewhere.
My walk had taken me to Blindley Heath and back via the showground, and first good birds were a pair of Whitethroats displaying in a nice piece of scrubby habitat I have found behind the football ground. I also saw a 2nd pair later on Blindley Heath common, so that was good, although must be said that 4 Whitethroats found when covering that particular piece of ground is a very poor return. I would say that Chiffchaff numbers are inching up towards normal, but Blackcaps are still well down.
A Willow Warbler was singing to the W of Pond Farm.... This species does not breed in the immediate area - they are a passage migrant - which means that they might stop off here for a day or 2, but are basically on the way to somewhere else. I have seen a lot of them this spring though - maybe up towards double figures - which is pretty good.
Next stop Blindley Heath common, and immediately heard a Nightingale, followed by a 2nd (and possible 3rd) later on. Interestingly enough, all of these had occupied 3 of the self-same territories that I had mapped out last Spring as part of the BTO Nightingale survey.
Next good bird was a Raven, which flew straight over my head at a height of about 50ft and uttered its loud 'gronk' call at me - scared the life out of me! Ravens are an interesting bird..... Only 10years or so ago, they were virtually unknown around these parts, and were a bird of the west country and sea-cliffs etc, but they gradually moved eastwards, were seen along the Sussex coast about 5years ago, moving into places like Ashdown Forest, and have been seen regularly around these parts since 2012. It's only a matter of time before one is spotted passing over the reserve. You could mistake one for a Crow, but 3 big differences:- 1. Size -They are big - have a look at the photo below and see how it dwarfs the fox that it is eating. 2. Calls - A variety of odd calls, most notably the loud 'gronk' referred to above. 3. The tail, which is diamond-shaped, rather that the gentle, rounded contour of other corvids (see photo of Lammergaier from a week or so ago - Raven is a bit like a longer version of that!). Photo below complements of my friend Brian Thomas.
On to the showground and 2 Ring-necked Parakeets flew over calling loudly (no change there!) and I was delighted to see 2 Little Owls canoodling in their normal barn - I imagine that we might be hearing the patter of tiny talons before too long.
Best of all though was my first Cuckoo of 2013 - calling in exactly the same place as 1st bird in 2011 and 2012 - just by Ray Brook N of Ray Lane.... I wonder if it is the same individual? Just goes to show how the face of Surrey birdwatching has changed, when I get more excited about a Cuckoo than a Raven, Parakeet or mating Little Owls!!
I forgot to mention the other day, but some kind soul has bequeathed us a large goldfish (or maybe more than one!) which is now swimming around quite happily in our pond. Have to say that putting ornamental fish into a wildlife pond is not the greatest idea, as the fish will try hard to eat as much of the wildlife as it can manage, plus goldfish breed like rabbits, so we could be in some trouble if there is more than one. I don't suppose the sort of person who would do such a thing is likely to be reading this, but if they are, PLEASE don't put any more fish in the pond, which is intended for wildlife.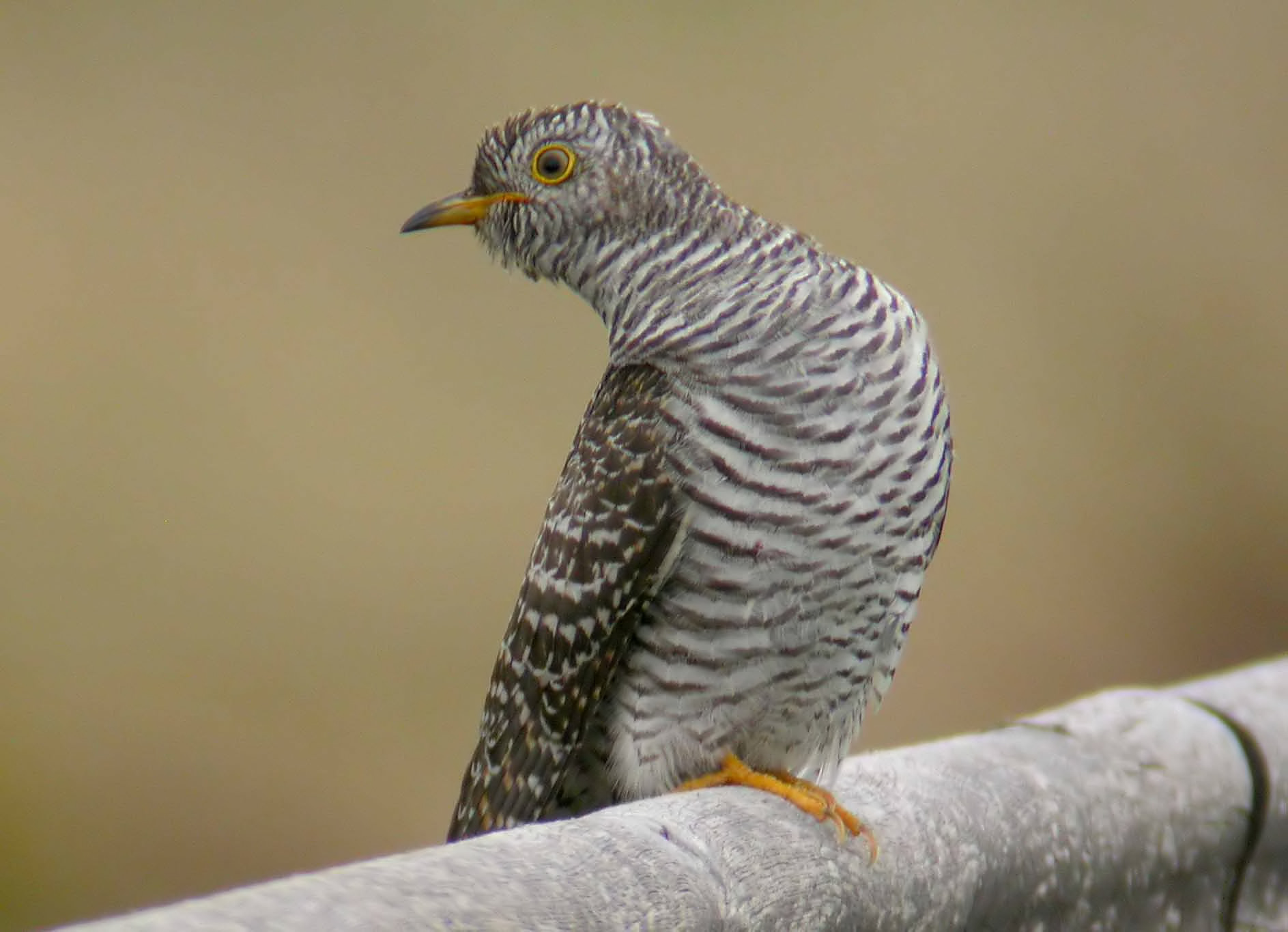 Friday 19th April - Ray Baker
Up early this morning for a walk around the reserve - practice session for the dawn chorus walk at the British Wildlife Centre next weekend, but it was relatively quiet in the chilly, gloomy conditions.
Many of the UK natives were singing away quite well - notably Skylark, Nuthatch, both Woodpeckers, Song Thrush etc etc but the first lap of the reserve yielded just 2 Chiffchaffs singing very desultorily - so much so in one case that it was more of a Chiff, not even getting as far as adding the 2nd note to go chiff-chaff! My various bird-watching colleagues and I are out and about a lot at this time of year, and we are all of the opinion that migration is pretty slow, with numbers of the earlier species only slowly crawling up towards normal levels, and the later-arriving species still being virtually absent. Another thing that we have noted though, is that the few birds that are here tend not to be singing very well, and my own theory for this is that they have possibly had such a hard time getting here, and are finding food so hard to come by in our belated spring, that any thoughts of establishing territory, pairing up, mating etc are rather playing 2nd-fiddle to the prime expedient of finding enough food to survive!
I did a lap of the sheep fields (couple of Yellowhammers and another Skylark) and then went around the reserve for a 2nd time and it was a bit better, and I found somewhere between 2-4 Blackcaps in the orchard/quiet garden area - all males interestingly enough, I have looked a few times, and never re-found the pair from the other day, and 2 of them were even disputing territory.... Typical - hardly any birds here and yet 2 of them manage to get into a fight!
There were also a few more Chiffchaffs present and I saw a pair in the quiet garden displaying and then a pair in the hedge between the WFM and the allotments nest-building.... Couldn't say for sure whether this was the same 2 birds though....
No signs of any Whitethroats, Garden Warblers etc, although it's probably a bit early to be panicking, but various doomsday scenarios are starting to play through my mind. I have visited my 2 prime locations for Whitethroat this week and found them both to be empty....
Earlier in the week I saw a Swallow feeding low over the sward in Jenner's field - finding it hard to find any flying insects there I was thinking - and this reminded me that I can't recall the last time I saw a Wagtail on the grass there... Last year they were a regular sight, and I recall some locally raised young coming there to feed.
The flowering bulbs that we planted have been progressing.... They look nice (I think anyway) but the jury must be out regarding their value to the flying insects for which they were primarily intended. On the one warm sunny day that we have had, I did see a number of bees feeding on the crocuses, but that's been about it really.... Doesn't look too promising for this weekend either, as temperature is forecast to drop a bit, although some sunshine may well make it feel a bit warmer than it really is.....
Chiondoxa Chiffchaff
Monday 15th April - Ray Baker
Went for a walk around shortly after dawn in a serious attempt to find out the status of our migrants on the reserve - particularly given that there is quite a bit of evidence that usual migration patterns are being affected by the odd spring weather we have been suffering both this year and last.
In 2012, early migrants (Chiffchaff, Blackcap etc) arrived more-or-less as usual, as they got here before the awful weather set in in April, but the later migrants, (Whitethroats, Garden Warblers etc) were caught by the stormy, wet weather and only arrived in the UK very late and in much smaller numbers than usual.
in 2013, it is the early migrants that have been affected by the cold windy weather coming from the NE and the Chiffs and Blackcaps have only just started to be reported in any numbers - approx 3-4 weeks later than usual.
This poses a couple of questions....
1. What will happen to the later migrants this year? If they didn't breed in the UK last year, will they return here in 2013 (assuming weather conditions are ok)
2. What will happen to the early migrants this year? Will they arrive in more-or-less normal numbers albeit later, or not make it at all.... I will be keeping an eye on things and will duly report as the season progresses - but have included a table below to show the current state of play....
Anyway.... back to today.... All of the UK native species were singing away lustily, including some that had been a bit quiet up to now - notably Blackbird and Wren - it is with mixed feelings that I can report that the pesky Blackbird has taken up singing about 30mins before dawn outside my bedroom window - he did that all last spring too!
I did see my first serious numbers of spring migrants though - 4 Chiffchaffs singing away and a male and female Blackcap had paired up and were feeding in the hedge at the top of the orchard.
I also noted a couple of good flyovers - a Stock Dove and a Yellowhammer... this latter seen just outside of the reserve, but it almost certainly must have crossed the reserve to get to where I saw it!
| | | | | |
| --- | --- | --- | --- | --- |
| | UK Arrival Date | Numbers | 2012 Numbers | 2013 to date |
| | (from approx) | ('normal' year) | | |
| | | | | |
| Chiffchaff | Mid-March | 10-12 | 8-10 | 4 |
| Blackcap | Mid-March | 4-6 | 4-6 | 2 |
| Garden Warbler | Mid-April | 2-4 | 0 | 0 |
| Whitethroat | Mid-April | 4-6 | 1 | 0 |
Here's photos of male and female Blackcaps - note only the males have black caps!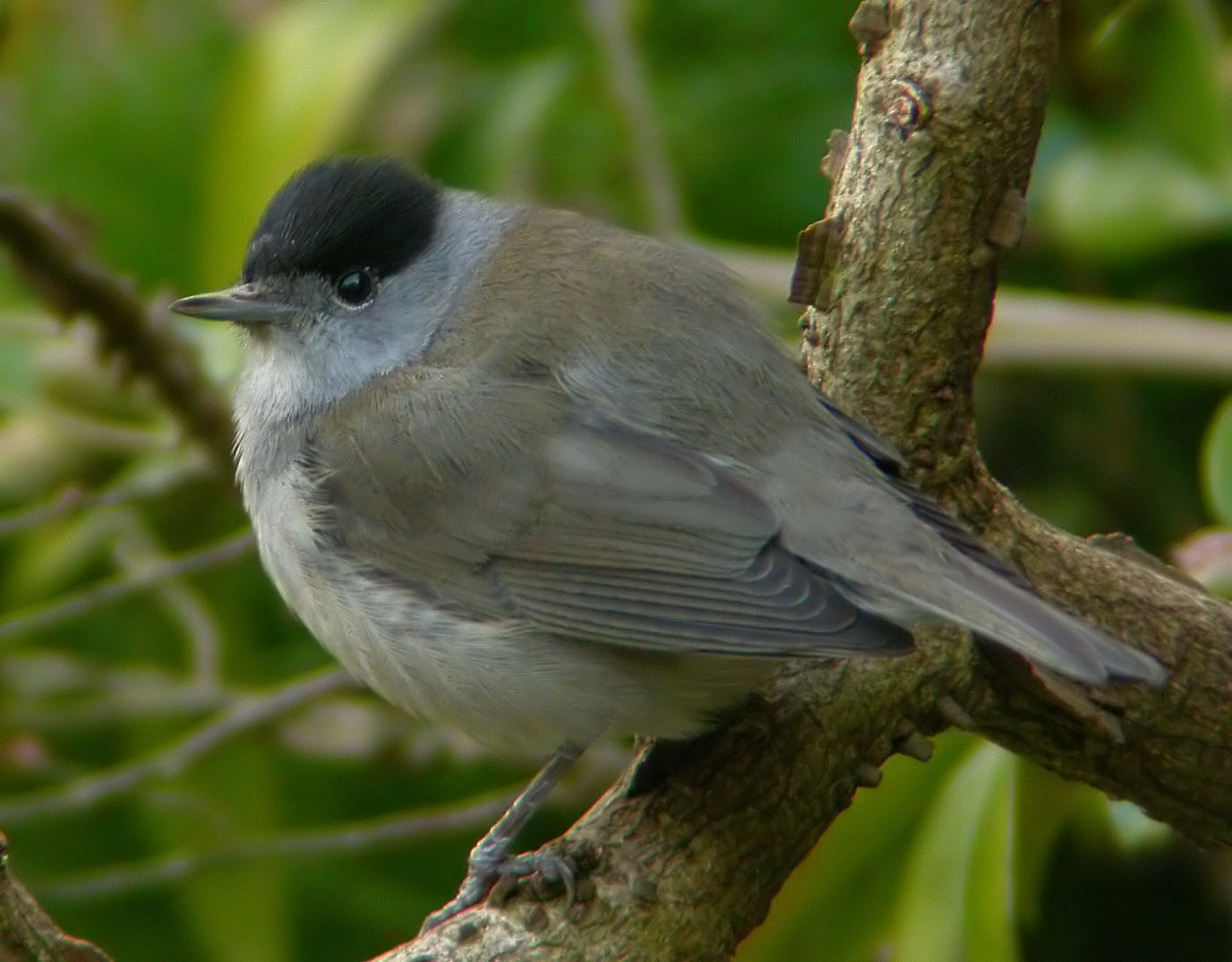 Sunday 14th April - Ray Baker
Today was the day for the April pond-dipping session, so I didn't have time for a proper walk around, but did see and hear a few bits and bobs whilst down in the pond enclosure.... Most notable sighting was my first Chiffchaff of the year (I've been out of the country for the last week) and an individual was singing from one of the tall trees surrounding the pond. But just as a reminder that winter was not very far away on this dreary spring, there were also a group of 3 Redpolls seen as well - these would normally have headed north to their breeding grounds by now, but have obviously been kept down here by the unseasonably cold weather. I will have a proper walk around in the next few days to see what other migrants I can find, but this really needs to be done early in the morning, so no good trying today.
Not much else seen but Greenfinches, Robins and Dunnocks were singing well, and I happened to notice 2 Mallards, some Herring Gulls and a Buzzard pass overhead.
Last week I was high in the French alps and thought you might be interested in a couple of photos - the small birds are Snow Finches, which are quite common and (as you can see!) quite readily seen, as they are often to be found perching on buildings and other structures, and make a good living scrounging for food in mountain restaurants. The other bird is a Lammergaier, which is a large vulture (8ft wingspan!) and I was lucky to see this one, as there are only reckoned to be c500 pairs left in Europe. Rumours that they sustain themselves on wounded skiers are probably untrue
The pond-dipping session was very enjoyable.... warm sunshine for a change, and 41 people attended. The full results are on the 'surveys' page but notable sightings were both male and female Great Crested Newts, 2 new species that we have never caught before (Water Shrimp and Water Louse) and a huge catch of 60 Smooth Newts from the main pond. This is quite a contrast from the April catch last year - we only caught 3 - and just goes to show how well the newly improved pond has settled down and is being populated by our most notable species.
I also noticed a male Brimstone butterfly going past - not particularly unusual for this time of year, but the weather has been so awful that this is one of only a handful of butterflies that I have seen all year - hopefully the weather will buck up a bit now and things will start to get back to normal.
Snow Finch Lammergaier
Friday 5th April - Ray Baker
Had a walk around today, but not much stirring in the frigid conditions..... The promised milder weather hasn't arrived as yet, still only a few degrees above freezing and sleet and snow blowing in on a brisk NE wind - not very spring-like at all!
There were a few Greenfinches down by the pond and I could hear a Long-tailed Tit just by the bridge over the stream (looks ideal nesting habitat) but mostly, birds were either absent of keeping their heads down.
Still no signs of any early spring migrants - Chiffchaffs and Blackcaps as far as the reserve is concerned - and these are now approx 2-3 weeks later than usual. Forecasts would have us think that the wind is going to switch round to a more southerly direction in a few days, so that might encourage some birds to continue their migration.
Last year, the early migrants arrived OK (they got here before the awful weather set in in April) but the later migrants such as Whitethroats and Garden Warblers only arrived very late and in much smaller numbers than might be expected, so I wonder if the same will happen to the Chiffchaffs etc this year? ie they will just remain further south and not make it as far as the UK at all.... It will also be interesting to see whether numbers of the later migrants are depressed again this year (due to poor UK breeding last year..) or whether the situation reverts back to something like normal....
Nature can be quite resilient, and things have a way of adjusting and catching up, but you do wonder just how much aberrant weather these bird species can stand before we start to notice significant changes in our UK species....
Talking of which.... We all feared that last year's cold rainy weather wouldn't be good for butterflies, and so it has proved with 52 of the 56 monitored species having shown declines in numbers - in some cases disastrous falls in populations that were already threatened and falling.... This very much bears out the results of my own experience, as I am responsible for one of the surveyed areas - over towards Gatwick airport in my case - and there was scarcely any butterflies to be found at all last year, until the grassland species, such as Meadow Browns, emerged later in the summer. Have a read if you are interested....here.
Finally, the attached photo shows the wisdom of leaving your flower seeds for the birds.... Taken in a friend's garden last weekend....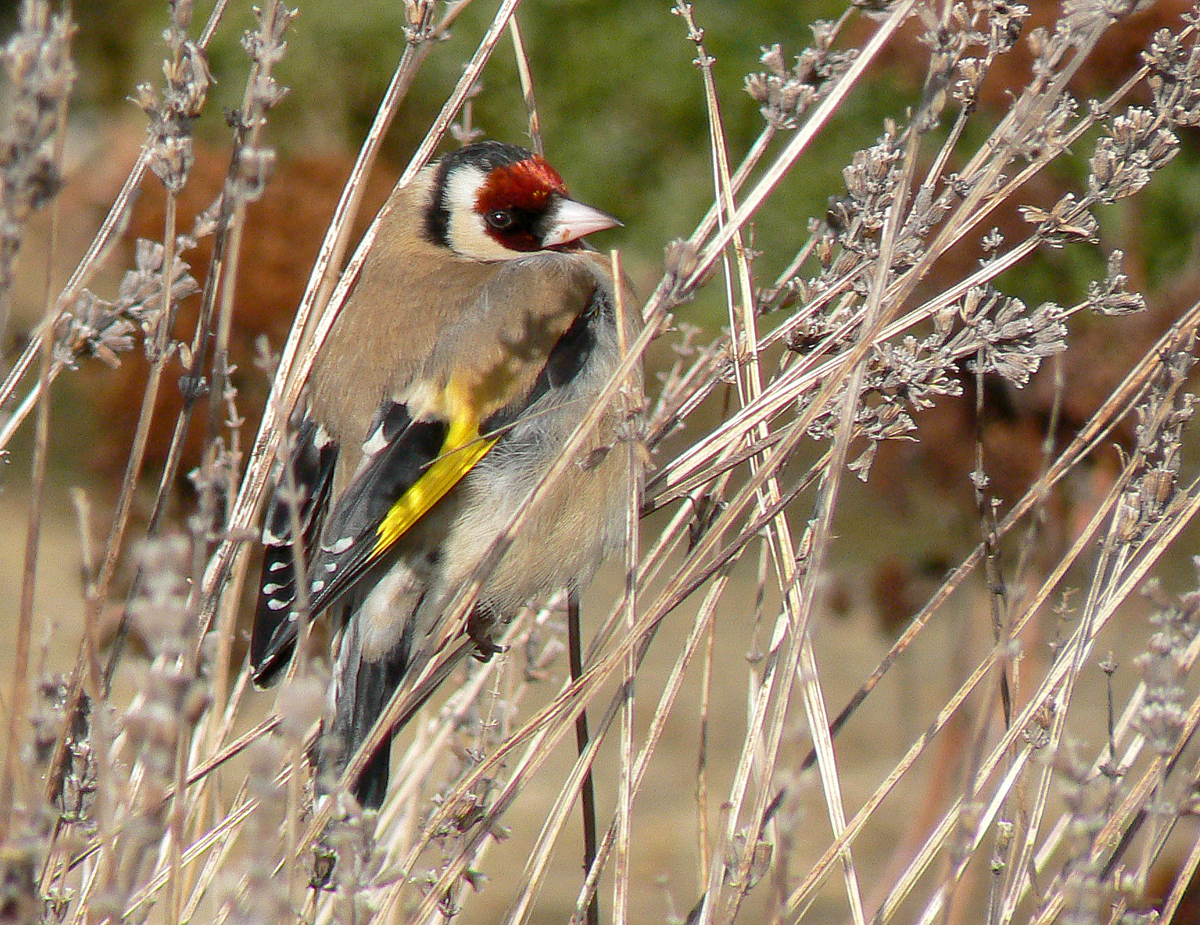 Monday April 1st - Ray Baker

Quite a long-ish walk today but, for once, most of the interesting sightings happened in the reserve, which we had very much to ourselves in the gloomy conditions and biting wind.
It seemed to be a bit of a day for Treecreepers, which was a bit odd, as this species is normally quite unobtrusive and you may see the odd one or two, but it is by no means a certain 'tick' when out and about on any given day. Well today, there were 2 singles around the reserve - one in the WFM and the other by the little bridge at the bottom of Jenner's - but we probably also saw another 4-5 out in the general countryside.
There was a Mallard swooping down to land in the pond as we approached, which we promptly flushed up again, which was a shame as it might have eaten some of the blanket weed if it had been able to stay a little longer. In addition to filling the pond with beer-bottles, the local youth had also removed the timber which edges the main pond-dipping platform and thrown it in too.... I fished it out and stamped it back into place after a fashion, but it could probably do with re-attaching properly, so if anyone is passing with a hammer....
There were also 3 Redwings and a Fieldfare feeding at the bottom of Jenner's field, but best sighting of all was probably the Egyptian Vulture which was seen soaring lazily over - quite an unusual sighting around these parts!
Talking of unusual sightings..... I went a bit further N yesterday and spent a few hours in the Downs. Some quite notable birds up there - a flock of over 1,000 Stock Doves, Ring Ouzel, 100+ Linnets, 4 Bramblings and a Red Kite. We also saw 2 Little Grebes, which are quite a good bird anywhere, but very good up there, where there is very little suitable water. I also had a personal 'first', as we were able to hear Redwings singing.... usually they have headed back to their northern breeding grounds before starting to sing, but are obviously being kept here for longer than usual by the continuing cold weather and were reminding us that Spring is theoretically here.
Treecreeper Egyptian Vulture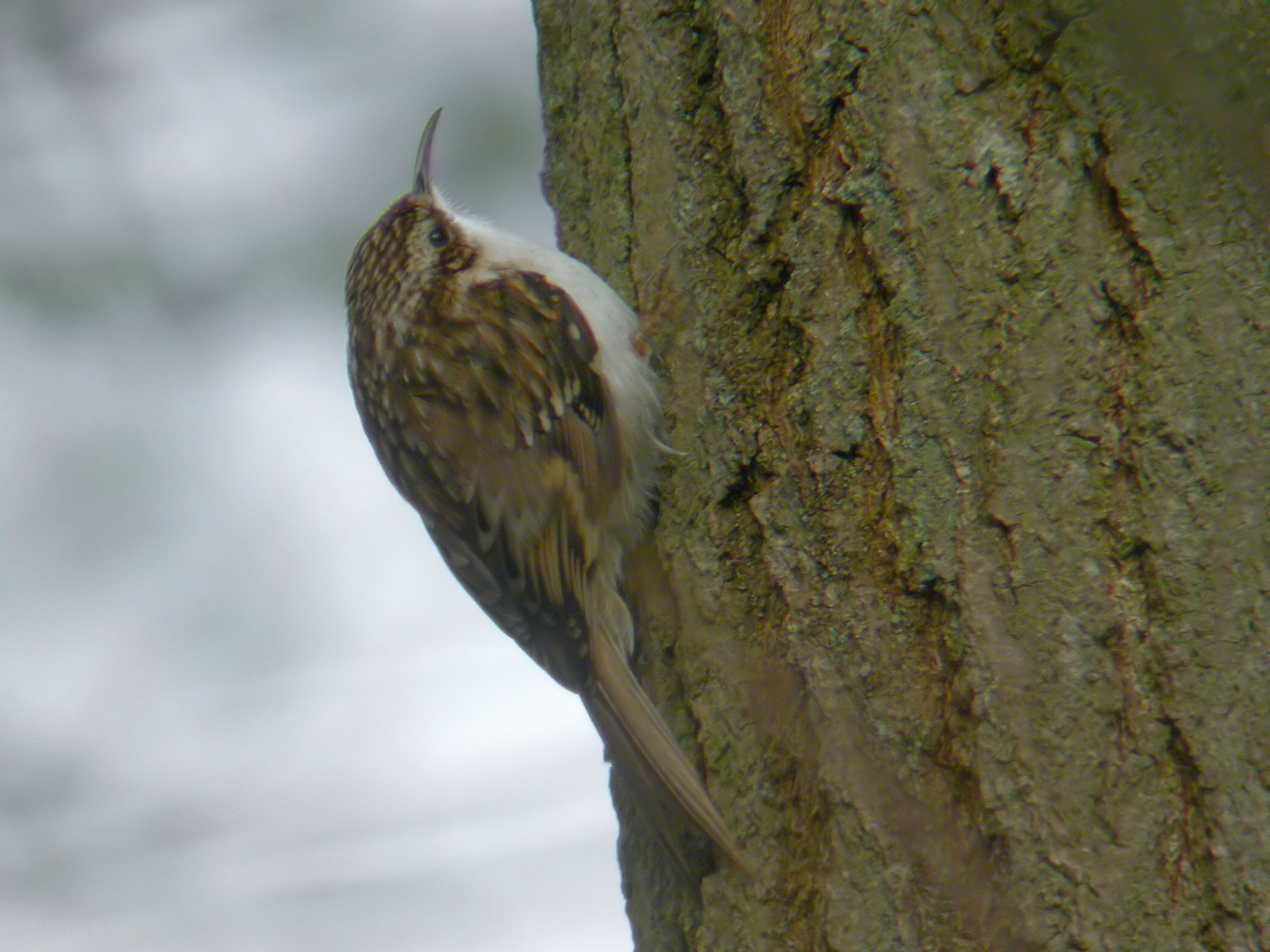 Brambling Ring Ouzel
Thursday March 28th - Ray Baker